27.06.2019 to 27.06.2019 - MQ Main Courtyard
Host: Q21
Irina Birger: Drawing Diagnosis
FREE ENTRY, ART, LEISURE & OUTDOOR
---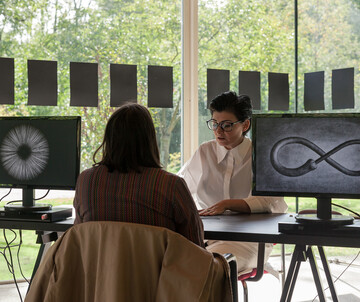 ---
All dates
• Days with event
01 sat
02 sun
03 mo
04 tue
05 wed
---
06 thu
07 fri
08 sat
09 sun
---
10 mo
---
11 tue
12 wed
13 thu
14 fri
15 sat
---
16 sun
17 mo
18 tue
---
19 wed
20 thu
---
21 fri
22 sat
23 sun
24 mo
25 tue
---
26 wed
---
28 fri
29 sat
30 sun
---
During her stay as Artist-in-Residence of Q21/MQ Irina Birger presents her interactive performance "Zeichnungsdiagnose".
During this interactive performance, Irina Birger will spend an afternoon engaged in vis-à-vis conversations with the visitors of MQ. They can share their private stories, fears, and concerns, while she will visualize these encounters, adding her own feelings and responses to the drawings. As a result, Birger will create individual psychological portraits on the intuitive visualization of verbalized reflections.
Each conversation will take approximately 15 min. The drawings made during the performance will be available for purchase for a moderate price of 50€ and signed by the artist.
Zeichnungsdiagnose is a remake of Drawing Diagnosis performance made in Amsterdam in 2018: https://irinabirger.com/Drawing-Diagnosis
Back to main navigation