02.04.2019 to 07.06.2019 - MQ ART BOX
Host: Q21
Gisela Stiegler: Akropolis 21
FREE ENTRY, ART, LEISURE & OUTDOOR
---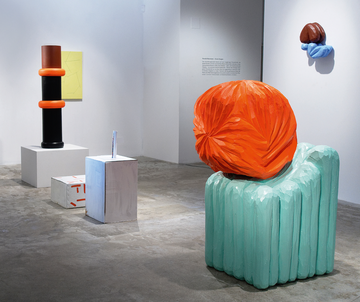 ---
All dates
• Days with event
---
08 sat
09 sun
---
10 mo
---
11 tue
12 wed
13 thu
14 fri
15 sat
---
16 sun
17 mo
18 tue
---
19 wed
20 thu
---
21 fri
22 sat
23 sun
24 mo
25 tue
---
26 wed
27 thu
---
28 fri
29 sat
30 sun
---
Opening: Tue, Apr 2, 19:00
A cube on the museum premises. A hall of columns. A place of study and festivities. The cube with seven column sculptures. Forms beckon. Cylinders and tori in intensive colours. Radically clear presence. A scene filled with perspective. The disentanglement of proportions is Gisela Stiegler's artistic theme. The classic column is the prototype for the implementation. A new analytical discourse with daring compositions is also discernible in the carved sculptures. The forms grow toward each other. A process of lingering and continuing on. Unyieldingly connected through the colours. The Minimal Art of the 21st century.
Gisela Stiegler (born 1970 in Upper Austria) initially studied Painting at the University of Applied Arts before moving to Amsterdam in 1997 to study photography at the Gerrit Rietveld Academy. In 1999 she received her diploma in Painting from the Academy of Fine Arts in Vienna. Several residencies and exhibitions abroad followed, in Rome, Paris, London and Vienna. Her sculptures in concrete and bronze are now also on display in public spaces.
Gisela Stiegler lives and works in Vienna.
Back to main navigation