24.01.2019 to 24.02.2019 - Jan Arnold Gallery
Host: Q21
Merlin Kratky: Teiresias erscheint Odysseus in der Unterwelt
FREE ENTRY, ART
---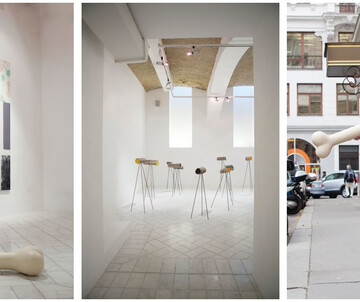 ---
All dates
• Days with event
01 tue
02 wed
03 thu
04 fri
05 sat
---
06 sun
07 mo
08 tue
09 wed
---
10 thu
---
11 fri
12 sat
13 sun
14 mo
15 tue
---
16 wed
17 thu
18 fri
---
19 sat
20 sun
---
21 mo
22 tue
23 wed
---
---
---
---
---
---
---
---
---
25 mo
---
26 tue
27 wed
---
28 thu
Opening: Thu, Jan 24, 19:00
A NEW SELF-EVIDENCE.
SOMETHING HAS SNEAKED IN.
PROTECTED BY THE SHADOWS OF THE BLIND SPOTS, IT SLIPPED
TROUGH THE DOOR OF OUR WEAKNESS, UNNOTICED. THE WEAKNESS
THAT WE ALWAYS CONSIDERED OUR GREATEST STRENGTH.
AND NOW HERE IT IS, SIDE BY SIDE WITH OUR CREATION,
MOCKING US WITH A TRIUMPHANT GRIN. FINALLY ASCENDING
THE THRONE OF ITS POWER, IT ENCOURAGES US IN OUR MADNESS.
IT APPROVES OF EVERYTHING IN OUR WORK
FOR WE CANNOT JUDGE IT OURSELVES.
IT SHOWS US WHAT WE HAVE ALWAYS WANTED TO BE.
IT SHOWS US OUR OWN PARADISE.
A PARADISE WHERE BANANAS ARE STRAIGHT
AND TOMATOES ARE SQUARE.
Back to main navigation