30.10.2015 to 30.10.2015 - Raum D / Q21
Host: Q21
SUBOTRON arcademy: The narrative design of "80 days"
FILM & DIGITAL CULTURE
---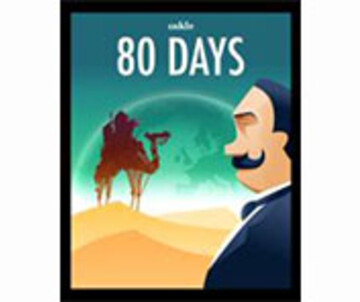 ---
All dates
• Days with event
01 thu
02 fri
03 sat
04 sun
05 mo
---
06 tue
07 wed
08 thu
09 fri
---
10 sat
---
11 sun
12 mo
13 tue
14 wed
15 thu
---
16 fri
17 sat
18 sun
---
19 mo
20 tue
---
21 wed
22 thu
23 fri
24 sat
25 sun
---
26 mo
27 tue
---
28 wed
29 thu
---
31 sat
Location: Room D / Q21
Admission free

Meg Jayanth
Writer and Digital Producer, London

"80 Days" is a massively branching choice-driven adventure – at last count, it contains over 650,000 words of content, 170+ cities and hundreds of journeys, each with their own individual, unique adventures. The player is asked to make narrative choices but also strategic ones – choosing routes and options, trading at markets and maintaining the health and happiness of Monsieur Fogg. As such, it isn't comfortably described by the terms "choose-your-own-adventure" or "interactive fiction".

Leaving the question of nomenclature aside, the lecture focuses not on what "80 Days" *is* but what it *does*: how it creates and sustains a certain tone, atmosphere and experience for the player using text, minimal – though stylish and effective – graphics & illustration, and thoughtful design.

Short biography
Meg Jayanth is the writer of the "80 Days" game published by Inkle, a steampunk, anti-colonial, interactive retelling of Jules Verne's classic. She worked at the BBC before becoming a freelance writer and has also written for the Guardian on women and video games. She has also completed writing work on the computer game "Sunless Sea" by Failbetter Games and written speculative fiction for online magazines and anthologies.
"80 Days" was one of Time Magazine's number one Games of the Year in 2014 as well as winning many other accolades, and Meg won the UK Writers Guild Award for Best Writing in a Video Game.


Back to main navigation