21.10.2008 to 09.11.2008

impulse on the spot
FILM & DIGITAL CULTURE
---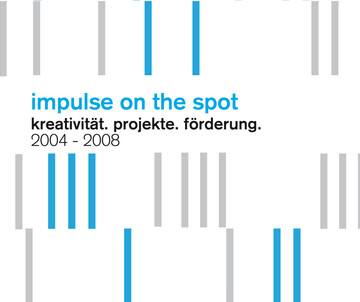 ---
All dates
• Days with event
01 wed
02 thu
03 fri
04 sat
05 sun
---
06 mo
07 tue
08 wed
09 thu
---
10 fri
---
11 sat
12 sun
13 mo
14 tue
15 wed
---
16 thu
17 fri
18 sat
---
19 sun
20 mo
---
---
---
---
---
---
10 mo
---
11 tue
12 wed
13 thu
14 fri
15 sat
---
16 sun
17 mo
18 tue
---
19 wed
20 thu
---
21 fri
22 sat
23 sun
24 mo
25 tue
---
26 wed
27 thu
---
28 fri
29 sat
30 sun
---
Ort: designforumMQ
Eröffnung: 21.10.2008 19 Uhr
Ausstellung: 22.10.2008 – 9.11.2008
Mi – Fr, 10 –18 Uhr / Sa – So, 11 – 18 Uhr

Die Ausstellung impulse on the spot dokumentiert die Aktivitäten des Förderprogramms impulse – des vormaligen ImpulsProgramm creativwirtschaft der austria wirtschaftsservice (aws). Mit Objekten, einer Multi-Screen-Videopräsentation, Soundboxen und einer "Info-Bar" belegt impulse on the spot Innovationskraft und Bandbreite der heimischen Creative Industries: "wearable communication", Outdoor-taugliches Möbeldesign, Online-Spielwelten und –Musicstores etc. Ein grafisches Leitsystem und RF-ID-Technologie lotsen durch die Ausstellung. Ausgestattet mit ID-Chips können BesucherInnen Fotos von sich und den Exponaten auf eine "persönlichen impulse-Website" laden und von dort als E-Card versenden.
Back to main navigation