25.11.2005 to 05.02.2006

Louise Bourgeois - Aller-Retour
ART
---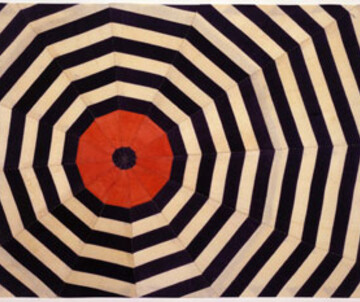 "My luck was that I became famous so late that fame could not destroy me." (Louise Bourgeois)

Lange Jahre blieb ihr die gebührende Aufmerksamkeit versagt, dann wurde sie zum "Superstar der Avantgarde", heute ist sie "eine große Figur der Postmoderne" (Peter Weiermair), und das, obwohl der Ruhm die amerikanische Künstlerin Louise Bourgeois erst in der zweiten Hälfte ihres Lebens ereilte.

Bourgeois' Arbeiten folgen einer seit den 80er Jahren gängigen Auffassung von Kunst, die zugunsten eines persönlichen Zugangs einen durchgängigen Stil und eine formale Übereinkunft ablehnt. Zentral ist für die Künstlerin die Bewältigung von Konflikten und eine intensive und offene Auseinandersetzung mit der Dialektik von Gefühl und Denken.

Unter dem Titel "Aller – Retour" widmet die Kunsthalle Wien der heute 94-Jährigen die wohl wichtigste Ausstellung ihres Spätwerks. Gezeigt werden knapp 150 Werke in sechs durch zentrale Skulpturen und nach Themen gegliederten Räumen. Ein retrospektiv eingerichteter Raum gibt den Blick frei auf ältere Werke der 1911 in Frankreich geborenen Künstlerin. Der Schwerpunkt der Schau liegt jedoch auf dem Oeuvre der letzten zehn Jahre, das zu einem überwiegenden Teil aus tagebuchähnlichen Zeichnungen besteht, in denen sich häufig Text und Zeichen vermischen.

Bild: Louise Bourgeois, UNTITLED, 2005, Courtesy of Cheim and Read, New York; Galerie Karsten Greve, Köln; Galerie Hauser and Wirth, Zurich


VERMITTLUNGSPROGRAMM

25. November 2005 - 05. Februar 2006
Überblicksführung: Louise Bourgeois Jeden Sonntag um 16 Uhr

07. Januar 2006 16:00
"Die Notwendigkeit des Ausdrucks"

14. Januar 2006 16:00
"Spiegel aus Papier - Zeichnungen als intimes Gedankenmedium"

19. Januar 2006 19:00
SPECIAL: Treffpunkt Kunsthalle in Kooperation mit MUMOK

21. Januar 2006 16:00
"I do, I undo, I redo ..."

28. Januar 2006 16:00
"Spiegel aus Papier - Zeichnungen als intimes Gedankenmedium"
Back to main navigation