23.11.2018 to 23.11.2018 - frei_raum Q21 exhibition space
Host: Q21
Under Pressure: an evening with Skyler Lindenberg, CEO, HARD-CORE
FREE ENTRY, ART, DANCE/PERFORMANCE/MUSIC, FILM & DIGITAL CULTURE
---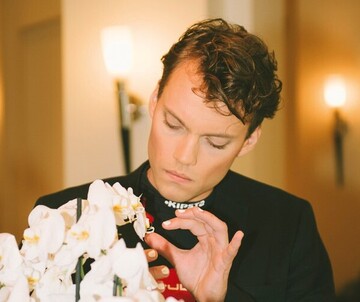 ---
All dates
• Days with event
01 thu
02 fri
03 sat
04 sun
05 mo
---
06 tue
07 wed
08 thu
09 fri
---
10 sat
---
11 sun
12 mo
13 tue
14 wed
15 thu
---
16 fri
17 sat
18 sun
---
19 mo
20 tue
---
21 wed
22 thu
24 sat
25 sun
---
26 mo
27 tue
---
28 wed
29 thu
30 fri
---
CEO Skyler Lindenberg will give a keynote presentation on the curatorial robot ASAHI 4.0 developed by tech startup HARD-CORE. ASAHI means 'Morning Sunlight' in Japanese, and truly, during this time of the year, the light is especially beautiful with its long dramatic shadows. HARD-CORE has dedicated a part of its life to developing algorithmic curation structures, focussing on xeno-solidarity, group bonding and collective togetherness.
Following Skyler Lindenberg's presentation the floor will be open for interactions and the public will be given a chance to have a collective grooming session via a 'meet and greet' ceremony.
HARD-CORE is an art startup based in Amsterdam and Paris, comprised of Hrafnhildur Helgadóttir, Eloise Bonneviot, Saemundur Thor Helgason and Anne de Boer under the guidance of their CEO Skyler Lindenberg.
The collective is focused on the development of automated curatorial applications. The aim is to fully automate the subjective task of curating art exhibitions in order to reach a more democratic system for selecting and displaying art. In 2011 HARD-CORE launched the first ever curatorial robot named ASAHI. This robot curated several exhibitions in Amsterdam which were characterized by their unusual placement of artworks and new relationships between them.
Since the launch of the first version of ASAHI, HARD-CORE has participated in- and organized numerous art exhibitions in The Netherlands, United Kingdom, Germany, Poland, Switzerland and Cyberspace. HARD-CORE has taken part in lectures and panel discussions such as Impakt festival 2016 in Utrecht, TEXT2SPEECH: Proxy Politics And Withdrawal at ICA London and at Studium Generale of the Gerrit Rietveld Academie in 2017.
Since 2015, HARD-CORE is educating their own module 'Documentation and Online Presence' to the BA Fine Arts at the Gerrit Rietveld Academie in Amsterdam.
HARD-CORE is kindly supported by The European Pavilion and the European Cultural Foundation and Q21 Artists-in-Residence in October and November 2018.
The 'frei_raum Q21 exhibition space' exhibition series is presented in cooperation with the Austrian Federal Ministry for Europan and Foreign Affairs and other partners. 'frei_raum Q21 exhibition space' shows international exhibition projects with the contribution of Artists-in-Residence as part of Q21. The series focuses on socio-political themes and social criticism. Admission is free.
Back to main navigation