19.08.2018 to 12.10.2018 - Q21, MQ ART BOX
Host: Q21
Gabriele Sturm: SCREEN Shots
FREE ENTRY, ART
---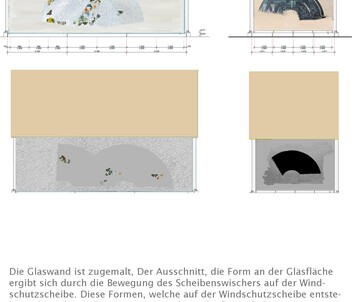 Opening: Thu, Sep 6, 19:00
I can see for thousands of kilometres from the passenger seat of the truck through the filter of the windscreen where the moving wipers reveal sections: fog, rain, dust, and insects smacking against the glass. As part of my project how far is far? (wie weit ist weit?)(2005 ff), which deals, amongst other things, with the enormous efforts put into the delivery of immediately available goods, on the transit routes I experienced thousands of insects expiring on the windscreen.
Natural scientists use the phenomenon of the insects thus gathered as an indicator of insect extinction. The SCREEN SHOTS mise-en-scene for the MQ ART BOX becomes an interface between this phenomenon and a new form of the butterfly box. Mirror foil on the floor opens up a new axis of seeing the construction that is the MQ ART BOX. The installation consists of a performative process and transforms the glass walls into a canvas for the work.
Gabriele Sturm: Since completing her studies at the Academy of Fine Arts in Vienna (1995–2000 Painting and Graphics with Markus Prachensky, 2000–2002 Textual Sculpture with Heimo Zobernig), Gabriele Sturm's work has followed the tradition of a project-oriented art that explores intercultural correlations and deals with them critically. She places her focus on the multi-layered interface of topics and in this way includes natural history and its representation, trade relations, art history, politics, etc. (...) Her performative processes shape the conceptual scaffolding out of the which the interwoven collages, photos, images, objects, installations and cinematographic works are developed (cf. Rainer Fuchs).
Selected exhibitions: Museum Villa Roth (de) 2017, Taxispalais (AT) 2015, Museum Ferdinandeum (At) solo 2014, ZKM (de) 2011, Galerie 5020 (At) solo 2010, Neue Galerie Graz (at ) 2007, Kunsthalle Exnergasse, Wien (at ) 2008, 2019, Art in public spaces / Nordwestbahnhof train station Vienna (at ) 2017, Galerie Karin Wimmer, Munich (de) solo 2016, 2019, Galerie 3 / flux 23 (at ) solo 2017, 2018, Winterpalais Belvedere (at ) 2015, Galerie Krinzinger Projekte, Vienna (at ) 2015, held art, Berlin (de) 2013, Bambinart Gallery, Tokyo (jp) 2012, etc.
Back to main navigation