06.06.2018 to 06.06.2018 - mumok

mumok Library:Moritz Frei
ART
---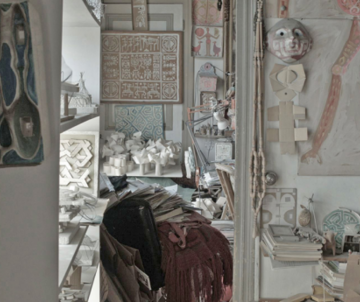 ---
All dates
• Days with event
01 fri
02 sat
03 sun
04 mo
05 tue
---
07 thu
08 fri
09 sat
---
10 sun
---
11 mo
12 tue
13 wed
14 thu
15 fri
---
16 sat
17 sun
18 mo
---
19 tue
20 wed
---
21 thu
22 fri
23 sat
24 sun
25 mo
---
26 tue
27 wed
---
28 thu
29 fri
30 sat
---
Michael Klein and Sasha Pirker have been working on the theories of the architect and visionary Yona Friedman, and they have developed a cinematic language for their presentation. In place of master narratives, Yona Friedman puts small and seemingly innocuous stories at the center of his thinking on real utopias, themes like the size of a group in which it is still possible to communicate directly, a simple fountain that can still provide water in case of emergency, or the city as a place of arrival. Friedman counters prescribed planning with the potential of spontaneous and ephemeral action: "We improvise all the time. We are used to it. All I am telling is you don't need to be afraid of it" (Yona Friedman).
Programm
Michael Klein, Sasha Pirker, 60 Elephants. Episodes of a Theory. Improvisation #1, 2018, 20 min
Presented by Michael Klein and Sasha Pirker, followed by a conversation with Hedwig Saxenhuber and Naoko Kaltschmidt (mumok). In the presence of Yona Friedman, who will be awarded the Kiesler Prizein Vienna (on June 5, 2018).
Michael Klein and Sasha Pirker live in Vienna. In their work they address various interfaces between culture, politics, and our built environment, using film, installations, images, and texts.
Hedwig Saxenhuber is an independent curator, co-editor of springerin – Hefte zur Gegenwartskunst, and lives in Vienna. She has curated numerous international exhibitions, recently the 2nd Kyiv Biennial The School of Kyiv. Currently she is preparing the exhibition WHO WAS 1968? for Lentos and Nordico.
opening hours
| | |
| --- | --- |
| mo: | closed |
| tue-sun: | 10:00 – 18:00 |
---
Back to main navigation