18.08.2018 to 18.08.2018 - Hof 8

frame[o]ut 2018: DIE_ANDEREN_BILDER & THE CLEANERS
FREE ENTRY, LEISURE & OUTDOOR, FILM & DIGITAL CULTURE
---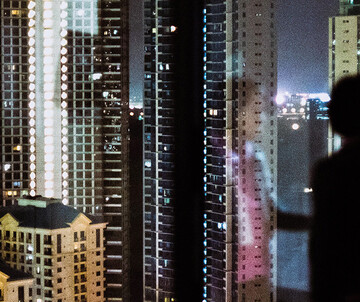 ---
All dates
• Days with event
01 wed
02 thu
03 fri
04 sat
05 sun
---
06 mo
07 tue
08 wed
09 thu
---
10 fri
---
11 sat
12 sun
13 mo
14 tue
15 wed
---
16 thu
17 fri
---
19 sun
20 mo
---
21 tue
22 wed
23 thu
24 fri
25 sat
---
26 sun
27 mo
---
28 tue
29 wed
30 thu
---
31 fri
frame[o]ut: Die_Anderen_Bilder & The Cleaners

Hof 8 (Boule Bahn), free admission! (in bad weather: Arena21)
Summer is here and the frame[o]ut Open Air Cinema plays on 16 evenings from July to September at the main court and yard 8 in the MuseumsQuartier Vienna. In the 11th edition, frame[o]ut screen open air and at nightfall local and international cinema on each Friday and Saturday with current topics, exciting stories and surprising styles - free admission and mosquito-free.
21h
DIE_ANDEREN_BILDER, AUT/DEU/FRA 2018, 17min, short, director: Iris Blauensteiner, original version
A hard drive, 2.8 terabytes, data left over from a project worked on a decade ago. In 2008 filmmaker and writer Iris Blauensteiner made her first short fiction film, and now she's taking a look at the remaining material: outtakes, photos, audio files, emails, portions of the screenplay, ideas that were abandoned. The data was archived carefully, but time has left traces. Old formats can't be played, current equipment isn't compatible. Playback errors and visual interference make easy reminiscence impossible; the sounds and images are no longer what they were. Hauntingly magical scenes are created from the digital leftovers and errors, forcing their way into the range of the audible and visible.
21.17h
THE CLEANERS, DEU/BRA 2018, 88min, documentary, directors: Hans Block, Moritz Riesewieck, original version w/ German subtitles
With Nicole Wong, Illma Gore, David Kaye, et al
The shadow industry of digital censorship on the web: whoever believes that a sophisticated algorithm or a form of artificial un-intelligence blocks Facebook users or Twitter accounts is wrong. In Manila, the world's largest outsourcing location for content management, tens of thousands of people delete photos, videos and texts for technology corporations in ten-hour shifts. Decisions regarding censorship or whether content is made visible are outsourced to these content managers. Which criteria are employed for the work of these employees, most of them quite young, is one of the best-kept secrets of their bosses. The documentary shows these people at work, surfing the web with them during their daily routine, clicking from internet cleaning crews in Manila to Los Angeles, London and Berlin.
Moritz Riesewieck (director) and Iris Blauensteiner (filmmaker and writer) will be present.
www.frameout.at
In cooperation with MuseumsQuartier Wien
Back to main navigation