08.06.2018 to 08.06.2018 - Glacis Beisl

B.O.U.M. Wine Fair
---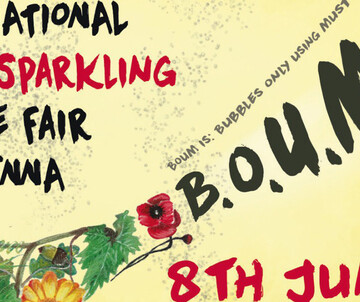 ---
All dates
• Days with event
01 fri
02 sat
03 sun
04 mo
05 tue
---
06 wed
07 thu
09 sat
---
10 sun
---
11 mo
12 tue
13 wed
14 thu
15 fri
---
16 sat
17 sun
18 mo
---
19 tue
20 wed
---
21 thu
22 fri
23 sat
24 sun
25 mo
---
26 tue
27 wed
---
28 thu
29 fri
30 sat
---
B.O.U.M. Wine Fair
Selected winemakers from all over Europe will meet to present their wines to an audience of professionals and private customers in the garden oasis of Glacis Beisl – located in the heart of Vienna – which is well-known for traditional viennese cuisine and a huge wineselection dedicated to organic and natural wines. Vienna, for its historical strategic position is home today to several events about wine, attracting public from neighbouring countries as well as from all over Austria.
Don't miss the fizz!
Especially on the B.O.U.M. weekend (from 8th June) there is a lot to explore about wine in Vienna, starting with a B.O.U.M. side event (to be announced) and VieVinum winefestival.
Glacis Beisl / MuseumsQuartier - Breite Gasse 4, 1060 Wien
11am – 6pm
11am – 12 admission only for professionals and journalists
TICKETS

- pre-sale ticket
Buy your ticket in advance directly at:
Vinifero (Gumpendorfer Straße 36, 1060 Vienna)
Glacis Beisl , MuseumsQuartier, Breitegasse 4, 1070 Vienna
You can also send us an E-Mail to pre-register for advanced tickets!
- ticket at the door
If you are planning to purchase a ticket on the day of the event,
the price for a single ticket will be € 25,-
(taxes included, no debit or credit cards accepted)
- ticket for professionals (only with pre-registration)
If you are working in gastronomy or winebusiness, please send us an E-Mail with your name&surname and name of your company and we will provide you with a special pro-ticket rate.
ALL TICKETS ARE FINAL SALE. NO REFUNDS, EXCHANGES OR REPLACEMENT TICKETS.
ALL ATTENDEES MUST BE 16+. NO MINORS.
PLEASE TASTE RESPONSIBLY. MAKE A PLAN TO GET HOME SAFELY.
Back to main navigation