20.03.2021 to 25.04.2021 - frei_raum Q21 exhibition space

Being strangers together
FREE ENTRY, ART
---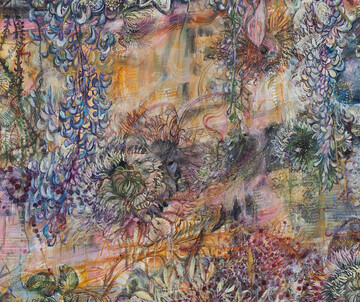 ---
All dates
• Days with event
01 mo
02 tue
03 wed
04 thu
05 fri
---
06 sat
07 sun
08 mo
09 tue
---
10 wed
---
11 thu
12 fri
13 sat
14 sun
15 mo
---
16 tue
17 wed
18 thu
---
19 fri
---
---
---
29 mo
30 tue
---
01 thu
02 fri
03 sat
04 sun
05 mo
---
06 tue
07 wed
08 thu
09 fri
---
10 sat
---
11 sun
12 mo
13 tue
---
---
19 mo
20 tue
---
---
26 mo
27 tue
---
28 wed
29 thu
30 fri
---
opening hours Wed - Sun, 15:00 - 19:00h
In 2021, the People's Republic of China and Austria will celebrate the 50th anniversary of the establishment of diplomatic relations. To mark this occasion, a special focus will be placed on cooperation, communication and dialogue between Chinese and Austrian artists. The exhibition "Being Strangers Together" (March 20 to March 28) at frei_raum Q21 exhibition space, curated by Alexandra Grimmer in collaboration with curator Lucas Gehrmann, is part of an overall project entitled "Where are we now? Digital-Real 2021" of the Austrian Cultural Forum Beijing and shows the works of three artists Karin Pliem, He Wei and Chen Shuo, whose work processes are similar although they live in three different cities: Vienna, Beijing, Chengdu.

The exhibition title "Being Strangers Together" was borrowed from an etching by Günter Brus from 1997, which he created on the occasion of Otto Breicha's 65th birthday. It describes a momentary feeling of incomprehension or alienation towards cultural belonging. Not only people from different countries are divided into different camps, but also those in the immediate proximity. For example, as countries close their borders, caution or distance is created toward anything that has "stayed out."
Thus "strangeness" occurs through different attitudes, professions and social positions, but also within the closest neighborhood. The positions shown represent the current situations on an artistic
level, which should contribute to mutual understanding and the importance of the language of art as an internationally understandable medium of communication.

The works of the three artists Karin Pliem, He Wei and Chen Shuo are connected by the dense and multilayered structure of their works.
Karin Pliem works on the background with generous forms and architectures, which she enriches on the surface with an infinite number of natural elements and details and thereby lets them be overgrown. Her multifaceted world of made and invented blossoms, grasses, fruit capsules, and other organisms forms an outer structure that is partially superimposed on what is happening behind it, so that the eye must slowly make its way through two "strangers": nature and civilizational culture.
In He Wei's work, the creation of his painting's ground is done in numerous layers that are peeled off again and again. Through the structure of the canvas, the colors are thinned out to form a seemingly transparent, fabric-like surface. Equally for him, superordinate architectures play a decisive role. As a contrast to the stripped, negative layers, he adds superimposed areas of color and lines that are built up and form positive shapes.

Chen Shuo's porcelain sculptures, in turn, refer to ubiquitous elements of Chinese culture: warrior figures of various dynasties, Buddhas, Taihou stones, and pagodas. In the exhibition, a Buddha in its
formal clarity is juxtaposed with a painting by Karin Pliem, whose fine structure of flowers, plants, and sculptural elements counters Chen Shuo's clear simplicity. His objects are built up into human-sized figures in an elaborate process. In order to transform the forms into the hardness of porcelain, he cuts them into hundreds of individual pieces, then reassembles them with metal wire after firing and glazing. As in He Wei's paintings, the structure of each sculpture is thus clear from the beginning, but is dissolved again during the working process to be completed in a slightly different form.
With the project "Where are we now? Digital - Real 2021", the Austrian Cultural Forum in Beijing has created a platform that celebrates equal cooperation at eye level and provides an insight into the possibilities of complementing each other's culture. Together with Alexandra Grimmer, a public call was issued inviting Austrian and Chinese artists to submit projects that take a joint digital-real standpoint and negotiate the current issues of the new millennium in an interdisciplinary way. The exhibition "Being Strangers Together" in Vienna is intended as a showcase for the overall project "Where are we now? Digital - Real 2021" and takes place in cooperation with the Federal Ministry for European and International Affairs.
Back to main navigation