16.04.2021 to 26.09.2021 - Leopold Museum

THE BODY ELECTRIC - Erwin Osen and Egon Schiele
ART
---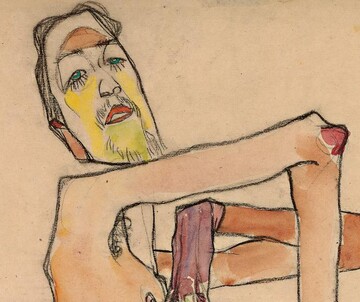 ---
All dates
• Days with event
You have selected the following event:
01 thu
02 fri
03 sat
04 sun
05 mo
---
06 tue
07 wed
08 thu
09 fri
---
10 sat
---
11 sun
12 mo
13 tue
14 wed
15 thu
---
---
---
---
---
---
---
---
---
---
---
---
---
27 mo
---
28 tue
29 wed
30 thu
---
The exhibition The Body Electric: Erwin Osen and Egon Schiele, to be shown at the Leopold Museum, is a presentation based on a number of recently re-discovered drawings by Erwin Osen (1891–1970). These were commissioned by Stefan Jellinek (1871–1968), a physicist and doctor active in Vienna until 1939, who during World War I researched the use of electricity in the treatment of post-traumatic stress disorders. The subjects of his trials were patients from the neurology department of the Garrison Hospital II on Rennweg headed by him. The hitherto unknown drawings created by Osen, who was a companion and model of Egon Schiele (1890–1918) and a co-signatory of the manifesto of Schiele's Neukunstgruppe, serve to broaden and enrich our understanding of Viennese Modernism and its art practice – an art practice that was closely linked with clinical medicine.
The Body Electric places the work of the little-known but highly mythologized artist Osen into the context of Jellinek's electropathological research, and links it with Schiele's interest in depicting patients. Based on the hitherto unpublished works by Osen, the exhibition shows that supposedly well-known works may be viewed in an entirely new light in the context of "clinical modernism".
opening hours
| | |
| --- | --- |
| mo-tue: | closed |
| wed-sun: | 10:00 – 18:00 |
---
Back to main navigation