28.03.2018 to 28.03.2018 - Kunsthalle Wien

Plamen Dejanoff. The Bronze House
ART
---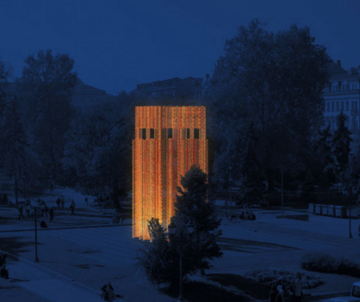 Plamen Dejanoff. The Bronze House
Ploshtad Knyaz Aleksandar I / Alexander Battenberg Platz, Sofia
Location: Kunsthalle Wien
Admission EUR 2
Plamen Dejanoff in conversation with Vanessa Joan Müller
When Le Corbusier visited Bulgaria in 1911 as part of his travel to the Orient, he was enthusiastic about the simple, cubic, richly decorated wooden houses in villages like Arbanasi. Plamen Dejanoff has been working for a long time on this form of construction and its influence on international modernity. For over twelve years, he has worked on a public sculpture project: The Bronze House, which is now being erected on the central Alexander Battenberg Square in the Bulgarian capital Sofia. The modular construction of more than a thousand elements in cast bronze refers to traditional Bulgarian architecture, but translates the tradition of wooden paneling and latticework into sculptural abstraction in public space. The eleven-meter-high work is conceived as a work of art in the center of the city, but also as an invitation to the public to appropriate it, to become an actor, and to establish a relationship with the place. The Alexander Battenberg Square has a central position in Bulgarian history, from the time after the Liberation to the present day.
Organized by Kunsthalle Wien, a series of talks and events will take place in Vienna and Sofia in the course of the year. This series will address The Bronze House and related questions such as: the impact of art in public space on its social environment, and how history and cultural memory are addressed by art.
The Bronze House will remain in Sofia until the end of the year. A publication planned for 2019 will document the project and the associated events.


<link http: www.kunsthallewien.at>www.kunsthallewien.at
opening hours
| | |
| --- | --- |
| mo: | closed |
| tue-sat: | 12:00 – 18:00 |
| sun: | closed |
---
Back to main navigation