10.11.2017 to 24.06.2018 - mumok

Art into Life!
ART
---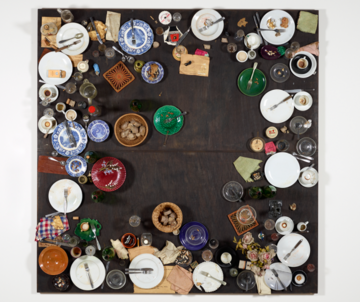 ---
All dates
• Days with event
01 wed
02 thu
03 fri
04 sat
05 sun
---
06 mo
07 tue
08 wed
09 thu
---
---
---
---
---
---
---
---
---
---
---
---
---
---
25 mo
---
26 tue
27 wed
---
28 thu
29 fri
30 sat
---
Art into Life!
Collector Wolfgang Hahn and the 60s
Exhibition
Location: mumok
In the 1960s, a new avantgarde movement emerged in the Rhineland. It was to break down the parameters of artistic disciplines, with an new internationally networked generation of artists coming from nouveau réalisme, Fluxus, and new music. One of the first collectors of their works was Wolfgang Hahn, chief restorer at the Wallraf Richartz Museum in Cologne. In 1978 his collection of around 400 works came to Vienna, where it is now one of mumok's key collections. In the exhibition Art into Life! Collector Wolfgang Hahn and the 60s, mumok now presents the major works from the Hahn Collection.
The slogan "art into life" was taken literally in the 1960s. The aim was to overcome an obsolete tradition in painting, using everyday objects, texts, and musical scores instead of creating classical painting and sculpture. All the works shown in this exhibition, beginning with Door by Joseph Beuys and ending with Wolf Vostell's action objects, are indebted to this expanded concept of art. Happenings, actions, and performances of new music are well represented, with works by Allan Kaprow, Nam June Paik, and John Cage. Prominent works of Pop art by George Segal, Claes Oldenburg, and Tom Wesselman enter into dialogue with material images from nouveau réalisme, which is a focus of the Hahn Collection, including works by Daniel Spoerri, Jean Tinguely, and Niki de Saint Phalle.
Curated by Susanne Neuburger (mumok) and Barbara Engelbach (Museum Ludwig Köln)

<link http: www.mumok.at>www.mumok.at
opening hours
| | |
| --- | --- |
| mo: | closed |
| tue-sun: | 10:00 – 18:00 |
---
Back to main navigation