02.05.2017 to 02.05.2017 - Halle E+G

Symphoniacs - Vivaldi meets Daft Punk!
DANCE/PERFORMANCE/MUSIC
---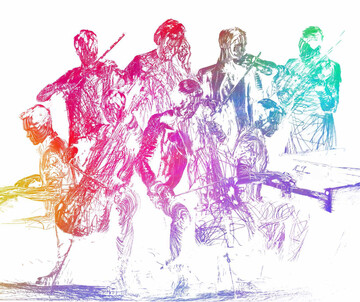 ---
All dates
• Days with event
01 mo
03 wed
04 thu
05 fri
---
06 sat
07 sun
08 mo
09 tue
---
10 wed
---
11 thu
12 fri
13 sat
14 sun
15 mo
---
16 tue
17 wed
18 thu
---
19 fri
20 sat
---
21 sun
22 mo
23 tue
24 wed
25 thu
---
26 fri
27 sat
---
28 sun
29 mo
30 tue
---
31 wed
Symphoniacs - Vivaldi meets Daft Punk!

Ort: Halle E
Tickets: <link http: www.oeticket.com>www.oeticket.com
Symphoniacs haben die klassische Moderne neu geschaffen. Das bahnbrechende Projekt aus Klassik-Virtuosen und Elektronik-Visionär Andy Leomar hat Genre-Grenzen weggefegt und das Publikum auf Anhieb für seinen individuellen Sound begeistert. Das gleichnamige erste Album, das Klassik mit Club kombiniert, Vivaldi und Daft Punk in neuen Klangbildern entstehen lässt, sorgt in den europäischen Charts für Aufsehen. Jetzt gehen Symphoniacs erstmals auf Tour und präsentieren ihren mitreißenden Mix aus Klassik und Electro live. Von Ende April bis Mitte Mai tritt das beispiellose Ensemble in Deutschland, Österreich und der Schweiz auf. Am 2. Mai gastieren die Symphoniacs in der Halle E im MuseumsQuartier in Wien.
Symphoniacs ist die Schöpfung des in Berlin lebenden österreichischen Komponisten und Produzenten Andy Leomar. Er führte herausragende internationale Instrumentalisten mit dem Ziel zusammen, eine zeitgemäße Verbindung zwischen Klassik und Dance, U- und E-Musik zu kreieren. Vermeintliche Widersprüche und Vorurteile löst der Pool aus Meister-Solisten an Geige, Cello und Piano mit seinem unkonventionellen Dirigenten schnell auf. Alten Meistern wird mit Sequencern und Drum-Computern zu Leibe gerückt, während Robin Schulz- oder Coldplay-Songs klassische Sentenzen erhalten.
Die Ausnahmetalente u.a. aus New York, Wien, Kopenhagen, Berlin, London und Budapest eint die Leidenschaft, Neues zu entdecken und Altes neu zu erschaffen. So reizt die Klassik bei Symphoniacs zum Tanzen und Popmusik wird mit symphonischen Klängen veredelt. Der Symphoniacs-Soundclash offenbart einen schier unerschöpflichen Variationsreichtum und entfaltet insbesondere als Live-Performance grenzenlose Perspektiven.


<link http: www.halleneg.at>www.halleneg.at
Back to main navigation