24.04.2017 to 27.04.2017 - Halle E+G, Leopold Museum, Tanzquartier Wien

FEEDBACK 4th edition
DANCE/PERFORMANCE/MUSIC
---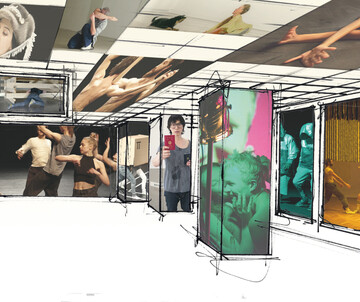 ---
All dates
• Days with event
01 sat
02 sun
03 mo
04 tue
05 wed
---
06 thu
07 fri
08 sat
09 sun
---
10 mo
---
11 tue
12 wed
13 thu
14 fri
15 sat
---
16 sun
17 mo
18 tue
---
19 wed
20 thu
---
21 fri
22 sat
23 sun
---
---
28 fri
29 sat
30 sun
---
TANZQUARTIER WIEN / BRUT WIEN
FEEDBACK 4th edition

Location: TQW / Halle G, TQW / Studios, brut Wien, Leopold Museum and Kunsthistorisches Museum
This year's edition of FEEDBACK is again also collating the various positions from the previous seasons of the Austrian dance and performance scene into a festival. In cooperation between the Tanzquartier Wien and brut Wien this provides the chance to admire outstanding works from the local performance scene afresh and also to make them accessible to an international expert audience in concentrated form.
From 24 to 27 April the areas of and between the Tanzquartier Wien and brut Wien will become venues to experience various choreographic manifestations that are exemplary of the diversity of a vibrant local and international dance and performance scene in a process of dialogue: four days marked by artistic creations and human encounters.
With MILLI BITTERLI, NAVARIDAS & DEUTINGER, CIE. WILLI DORNER, PHILIPP GEHMACHER, ALEX BAILEY + KRÕÕT JUURAK, IAN KALER, ROTRAUD KERN, LIQUID LOFT, SIMON MAYER, MICHIKAZU MATSUNE, NADAPRODUCTIONS / AMANDA PIÑA, SÖÖT / ZEYRINGER, PETER STAMER + FRANK WILLENS, DORIS UHLICH and PAUL WENNINGER.
PROGRAMME
Mon, Apr 24 to 27
Mon, Apr 24

ROTRAUD KERN
where we meet, vol. 1
18:30
TQW / Studios

SIMON MAYER
Sons of Sissy
20:00
brut Wien
LIQUID LOFT
Shiny, shiny ... (Imploding Portraits Inevitable)
22:00
TQW / Halle G

Tue, Apr 25

CIE. WILLI DORNER
one
14:00
TQW / Studios

ALEX BAILEY + KRÕÕT JUURAK
Performances for Pets
Präsentation
15:00
TQW / Studios

ROTRAUD KERN
where we meet, vol. 1
16:00
TQW / Studios

CIE. WILLI DORNER
one
18:30
TQW / Studios

NADAPRODUCTIONS / AMANDA PIÑA
Dance and Resistance
Endangered Human Movements Vol. 2
20:00
TQW / Halle G

MILLI BITTERLI
Der Tausendfüßler (Was bleibt?)
a livelong project
22:00
brut Wien
ALEX BAILEY + KRÕÕT JUURAK
Performances for Pets
Präsentation
15:00
TQW / Studios

SÖÖT / ZEYRINGER
lonely lonely
16:00
TQW / Studios
PHILIPP GEHMACHER
Die Dinge der Welt
18:30
Leopold Museum
IAN KALER
o.T. | (Incipient Futures)
20:00, 22:00
TQW / Halle G

NAVARIDAS & DEUTINGER
Queen of Hearts
20:00, 22:00
brut Wien
Thu, Apr 27

PAUL WENNINGER
Trespass, Uncanney Valley, Dead Reckoning
Film Screening + Talk
15:00
TQW / Studios

SÖÖT / ZEYRINGER
lonely lonley
16:00
TQW / Studios

PETER STAMER + FRANK WILLENS
On Truth and Lie in an Extra-Moral Sense
18:30
Kunsthistorisches Museum / Neue Burg - Jagdplateau, Eingang Heldenplatz

MICHIKAZU MATSUNE
Dance, if you want to enter my country!
20:00
brut Wien

DORIS UHLICH
Boom Bodies
22:00
TQW / Halle G

LA BOUM FINALE —
Acht Jahre Künstlerische Leitung Walter Heun & Team
im Anschluß an die Vorstellung
TQW / Halle G


www.tqw.at
This event takes place at several locations
(Click headline to switch):
Halle E+G
Back to main navigation