17.04.2023 to 23.04.2023 - ASIFAKEIL, Raum D / Q21
Host: Q21
Under_the_Radar 2023 Festival
FREE ENTRY, ART, FILM & DIGITAL CULTURE
---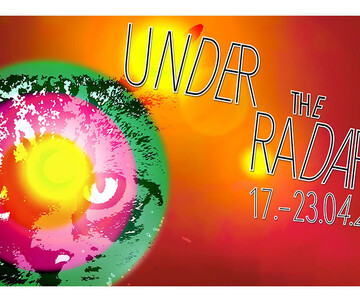 ---
All dates
• Days with event
01 sat
02 sun
03 mo
04 tue
05 wed
---
06 thu
07 fri
08 sat
09 sun
---
10 mo
---
11 tue
12 wed
13 thu
14 fri
15 sat
---
16 sun
---
---
24 mo
25 tue
---
26 wed
27 thu
---
28 fri
29 sat
30 sun
---
Under_the_Radar 2023, the festival for experimental film and animation, will take place from April 17 to 23.
For one week, experimental films and animations from Austria and 25 other countries will be shown at various locations, and there will also be special programs with film performances and personalities. Because a good presentation can be crucial for the financing and thus realization of a film project, ASIFA Austria together with filmartists.at will again organize a pitching competition for animated films (Raum D) in 2023.
In Raum D on Wed 19.04, 21h the performance Tracing Each Other by Michaela Müller, Zrinka Šimičić Mihanović and Ragnheiður Erla Björnsdóttir takes place, on the same evening, 18.30h there is the opening of the exhibition freeze/thaw at ASIFAKEIL by MQ Artist-in-Residence Corrie Francis Parks.
On Thu 20.04., 11h and Fri 21.04., 10.30h there is a pitching workshop with producer Olivier Catherin (F) in Raum D.
In addition, the annual pitching competition is held on Sun 23.04, 11h in Raum D.
The extensive and exciting program can be found here: www.under-radar.com
This event takes place at several locations
(Click headline to switch):
ASIFAKEIL
Back to main navigation