12.11.2021 to 11.02.2022 - TONSPUR_passage
Host: Q21
TONSPUR 90: Emeka Ogboh: Excerpts From Lagos
FREE ENTRY, ART, DANCE/PERFORMANCE/MUSIC
---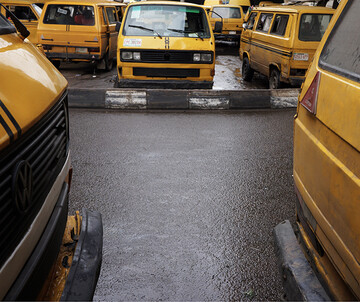 ---
All dates
• Days with event
01 mo
02 tue
03 wed
04 thu
05 fri
---
06 sat
07 sun
08 mo
09 tue
---
10 wed
---
11 thu
---
---
---
---
---
---
---
---
---
12 sat
13 sun
14 mo
15 tue
---
16 wed
17 thu
18 fri
---
19 sat
20 sun
---
21 mo
22 tue
23 wed
24 thu
25 fri
---
26 sat
27 sun
---
28 mo
Opening: Fri 12.11., 17h
in the context of the Vienna Art Week 2021
Current admission rules apply
"The 'Excerpts From Lagos' is a nine-minute multi-channel sound installation assembled from my audio piece on the Oshodi Exchange. This combines ambient sounds from bus stations in Lagos with the typical shouts and sounds used by street vendors to attract customers to their premises. The sound images from Lagos were now overlaid with piano scores by Kristian Kowatsch. The result was a minimalist and organic sound composition.
Since 2008, I have been making most of my field recordings in the African megacity of Lagos. Accordingly, I call the resulting group of works 'Lagos Soundscapes'. The project takes as its starting point the endless sounds and noises of this so vibrant city, which I actively seek out and record. The sound character and groove of the city arises from the roar of the street traffic with its buses and cars and the chants of the bus conductors beckoning from the Danfos, the street vendors roaming the official and unofficial markets loudly depicting the commercial power of the city, spiritual chants from churches, mosques and other places of worship that attest to Lagos' religious diversity, from juju, highlife and fuji music pouring out of lively bars on joyously entertaining nights, and snatches of sentences in pidgin, Yoruba, Igbo and other Nigerian, West African and foreign languages that speak for the city's many cultures. All of these noises and sounds interpenetrate, counteract, and overlap in such a multi-layered way that they become an improvisational concert that creates a sound portrait of the city. At the same time, the work also draws the contours of the relationship between the people of Lagos and the soundscapes they create. Urbanization, traffic development, and even everyday lifestyle shape the city's steadily flowing stream of sound, ultimately producing a contemporary catalog of its so fluid atmosphere."
- Emeka Ogboh

Emeka Ogboh, born in 1977 in Enugu, Nigeria, is a sound, media and gastro artist. He transforms the sonic image of concrete urban spaces and private as well as collective memories embedded in them into impressive, at times "palatable" installations that address issues such as migration and identity in the globalized world. Ogboh was represented at documenta 14 (2017), among others. After receiving a fellowship from the DAAD's Berlin Artists' Program in 2014, he lives in Lagos and Berlin.
01.10.2021 to 31.08.2022 - Gruppe Or-Om, Raum D / Q21
Q21
24.05.2022 to 16.08.2022 - EIKON Schauraum
Back to main navigation