16.04.2018 to 15.08.2018 - MQ ART BOX
Host: Q21
Stefanie Wilhelm: Oscillations
FREE ENTRY, ART
---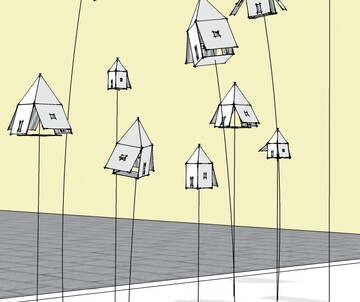 ---
All dates
• Days with event
01 sun
02 mo
03 tue
04 wed
05 thu
---
06 fri
07 sat
08 sun
09 mo
---
10 tue
---
11 wed
12 thu
13 fri
14 sat
15 sun
---
---
---
---
---
---
---
---
---
---
16 thu
17 fri
18 sat
---
19 sun
20 mo
---
21 tue
22 wed
23 thu
24 fri
25 sat
---
26 sun
27 mo
---
28 tue
29 wed
30 thu
---
31 fri
A sea of white houses fluttering in the wind. Attached to the floor, grounded. Fixed in their center. They symbolize flexibility, openness and at the same time steadfastness. In its movement, every house has an innate character, an individual soul.
The harmonious appearance appears buoyant,
at the same time - looking deeper - we find an emblem for people who bring changes to the world with these same characteristics.
How do we find our equilibrium when we are open and flexible, without losing our center and our anchoring?
While oscillating, do we succeed in maintaining our position among multiple requirements within and externally?
Stefanie Wilhelm ((*1967 in Neuburg an der Donau) graduated in communications design at the University of Applied Sciences in Augsburg and Stage and Film Design at the University of Applied Arts in Vienna. She works as a stage designer and freelance artist. Her works move between the areas of performative light installations, theater, sculpture and design.
She completed stage sets at the Hofburg, Schauspielhaus, and Tanzquartier in Vienna, the Bayerisches Staatsschauspiel, for the Munich Music Biennale, the Nationaltheater Mannheim, Schauspielhaus Frankfurt, Thalia-Theater Hamburg, the Philharmonie Luxembourg and the Theater am Neumarkt in Zurich. Furthermore, Stefanie Wilhelm participated in numerous exhibitions in Austria and abroad, among others at the Zoom Children's Museum, the Kubus Export Vienna, the Altonaer Museum in Hamburg, the Lux.us Lichtkunstpreis in Lüdenscheid, the O.K. Centrum für Gegenwartskunst in Linz, Les Subsistances in Lyon and the Sirius Art Center Cork.
Stefanie Wilhelm lives and works in Vienna.
Back to main navigation