01.12.2021 to 31.01.2022 - STATION ROSE
Host: Q21
STATION ROSE My Time has Come_lite
FREE ENTRY, ART
---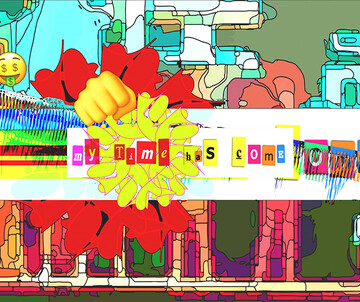 ---
All dates
• Days with event
Parallel to the solo exhibition in the gallery CHARIM, Schleifmühlgasse 1A there is an installation lite in the MQ on the subject of "My Time Has Come".
New works with new sounds, including artworks 1988-2021: Augmented Reality, C-Prints, video loops, new media arte povera, projections and text.
When STATION ROSE was launched in 1988 by Elisa Rose and Gary Danner, as the initial spark for the Freihausviertel at Margaretenstrasse 26, they both planned to make "the digital" a decisive factor not only in their art and music, but in their entirety to make future life.
And not as an "experiment", "scientific observation" or "academic artistic field research", but they meant it seriously. Everything, from their art / music to communication, should be determined by the digital, the digital more and more replacing the analog. From 1991, communication was organized through daily online communication with what was then a very small international group of similarly thinking cyberpunks.
The premise was to survive without relying on teaching activities at art universities or jobs in commerce, and to become so powerful, famous and rich ;-)
This independence enabled STATION ROSE to develop its own style in words, images and sound over the last 33 years, which is shown in the exhibitions "My Time Has Come" in the Charim Gallery & in the MQ.
#stationrose #digitalart #covid19 #lockdown #audiovisual #digitalarchive #contemporaryart #netart #electronica

Back to main navigation