08.01.2022 to 05.03.2022 - MQ ART BOX
Host: Q21
Philipp Timischl: An abstract and a site-specific painting walk outside a museum
FREE ENTRY, ART
---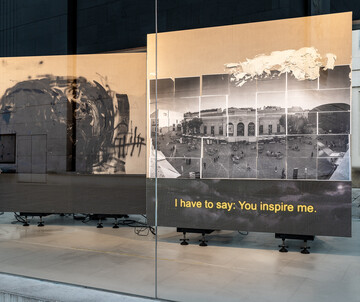 ---
All dates
• Days with event
01 sat
02 sun
03 mo
04 tue
05 wed
---
06 thu
07 fri
---
---
---
---
---
---
---
---
---
06 sun
07 mo
08 tue
09 wed
---
10 thu
---
11 fri
12 sat
13 sun
14 mo
15 tue
---
16 wed
17 thu
18 fri
---
19 sat
20 sun
---
21 mo
22 tue
23 wed
24 thu
25 fri
---
26 sat
27 sun
---
28 mo
29 tue
30 wed
---
31 thu
An abstract and a site-specific painting walk outside a museum
It begins like a joke. An abstract and a site-specific painting walk outside a museum is the title of Philipp Timischl's installation, specifically conceived for the MQ Art Box.
The artist shows two paintings he turned into sculptures by extending them with stage scaffolding and adding LED panels. On the screens we follow a conversation between the two artworks. However, there is no clear punchline emerging from this conversation. In a never-ending loop the two protagonists chat about ideas, opinions and their feelings. The conversation is interrupted only every now and then for a brief moment to discuss an important topic: Could taking a selfie in front of the museum be considered tacky?

Site-specific painting:
»I have to say: You inspire me.«
Abstract painting:
»Really? I don't do much.«
Site-specific painting:
»Exactly.«
Philipp Timischl's (*1989 Graz, living in Paris) expansive multimedia installations combine found and self-produced materials to build narrative structures, balancing between documentation and fiction, between the private and public spheres. Dominant themes in his art include the lasting influence of our roots, exclusion, and queerness in relation to social classes as well as the power dynamics between art, artist, and audience.
He recently had solo exhibitions at:
Secession, Vienna; Fondation Fiminco, Paris; Halle für Kunst, Lüneburg; Galerie Emanuel Layr, Vienna and Rome; Vilma Gold, London; Neue Alte Brücke, Frankfurt and Künstlerhaus Graz.
Back to main navigation