24.11.2022 to 29.01.2023 - SCHAURAUM Angewandte
Host: Q21
Neil Mendoza: Pretty Rubbish
FREE ENTRY, ART, FILM & DIGITAL CULTURE
---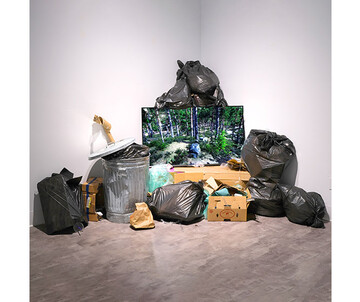 ---
All dates
• Days with event
You have selected the following event:
01 tue
02 wed
03 thu
04 fri
05 sat
---
06 sun
07 mo
08 tue
09 wed
---
10 thu
---
11 fri
12 sat
13 sun
14 mo
15 tue
---
16 wed
17 thu
18 fri
---
19 sat
20 sun
---
21 mo
22 tue
23 wed
---
---
---
Opening: Thu 24.11., 19h
Neil Mendoza uses kinetic art and software to explore issues around sustainability. He steers around the desensitization experienced when bombarded with information about these topics by using humor, motion and found objects as a backdoor into people's psyches. Just as Dada was a reaction to the chaos of WW1, Mendoza's work uses absurdity as a reaction to our path of ever growing consumption.
Biography
Neil Mendoza's work combines sculpture, electronics and software to bring inanimate objects and spaces to life. He has exhibited work and talked at conferences around the world, taught classes on art and technology at UCLA and Stanford and co-founded the art collective "is this good?". In November 2022 he is Q21 Artist-in-Residence in the MuseumsQuartier Wien.
Image: Transdimensional Trash (2022). Media: Trash, software. A day in the life of a retired trash bag.
Back to main navigation