11.11.2022 to 28.03.2023 - KABINETT comic passage
Host: Q21
Marc Truckenbrodt: Lion and Crocodile – The Island
FREE ENTRY, ART
---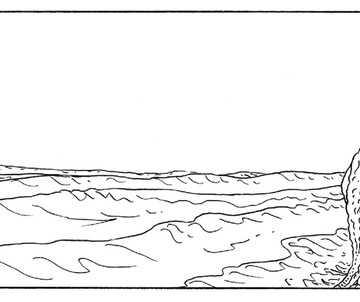 ---
All dates
• Days with event
You have selected the following event:
01 tue
02 wed
03 thu
04 fri
05 sat
---
06 sun
07 mo
08 tue
09 wed
---
10 thu
---
---
---
---
---
---
---
Opening: Thu 10.11., 18.30h
Zine in the on-site vending machine: EUR 2,-
In their new adventure, the two friends lion and crocodile have ended up on a lonely island far from home. Attempts to leave the island fail. Then a hunter appears … This episode is about, among other things, elephant footprints in the sand and jumping from great heights. The adventures of "Lion and Crocodile" deal with friendship and the challenges that arise from encounters with other animals and people. It is a story for children and adults that does without words and explanatory text.
The first comic book by Marc Truckenbrodt will soon be published by Materialverlag HFBK Hamburg. Marc Truckenbrodt, born in Jena in 1998, lives and works in Vienna. He has been drawing and telling stories for as long as he can remember. He studies fine arts in the Department of Graphics and Printing Technology at the Academy of Fine Arts in Vienna.
Back to main navigation