01.04.2023 to 30.06.2023 - Literaturpassage
Host: Q21
Verständnis
FREE ENTRY, LITERATURE & DISCOURSE, ART
---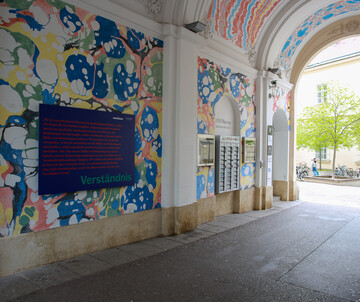 ---
All dates
• Days with event
You have selected the following event:
To want to understand what is currently going on. To be able to locate oneself in the present thanks to friends from Iran.
To understand transitions. Texts as manifestation of mental transit, as object of the transition from thought to language, from concept to concrete.
Texts by two Austrian-Iranian authors. Maryam Shahidifar and an author who wishes to remain anonymous. Based on a freely chosen word, which does not exist in the German language, the authors were asked to write a literary attempt, which takes up the current problems of the present, in a moment of understanding.

Booklet in the vending machine on site: EUR 2,-
Curators: Talie Bühl, Grace Oberholzer, Sara Schmiedl, Mariia Arson, Leonie Ziem
Project support: Univ.-Prof. MA Gerhild Steinbuch, Director of the Institute for Language Arts
Back to main navigation