25.05.2021 to 31.07.2021 - eSeL REZEPTION
Host: Q21
KunstGeschichtenInnenGeflecht
FREE ENTRY, ART
---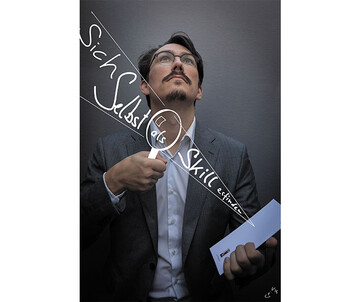 ---
All dates
• Days with event
01 sat
02 sun
03 mo
04 tue
05 wed
---
06 thu
07 fri
08 sat
09 sun
---
10 mo
---
11 tue
12 wed
13 thu
14 fri
15 sat
---
16 sun
17 mo
18 tue
---
19 wed
20 thu
---
21 fri
22 sat
23 sun
24 mo
---
---
---
A collaborative exhibition project by eSeL with art history students who want to remain involved in the contemporary art world.
The exhibition "KunstGeschichtenInnenGeflecht" presents the result of a collaborative exhibition development in the context of a workshop for the art history festival "kunst.wollen" (May 19-22, 2021).
eSeL visualizes desires and future career fields of art history students by means of photos from its archive and complements them with inputs from the workshop.
Using drawing pencils and digital tools, eSeL has developed a practice of translating conversation outcomes as humorous "language pictures" on photographs. For almost two decades, the eSeL photo archive has been offering photographic observations from Vienna's art scene in front of and behind the exhibition walls. It offers insights into almost all aspects of the art business and is used in numerous projects.
Students not only contribute their ideas of hoped-for activities for art historians, but can also send in photos from their everyday studies, which are then processed by eSeL.
The result is a series of possible (and possibly impossible) job descriptions that promises an idiosyncratic fusion of two decades of the working practice of an "applied art historian" with the hopes and updates of a new generation of art researchers.

In cooperation with the art history festival "kunst.wollen" (May 19-22, 2021) at the University of Vienna.
Back to main navigation