06.10.2021 to 12.12.2021 - Brückenpassage
Host: Q21
Julia Steinbach: in this scenery
FREE ENTRY, ART
---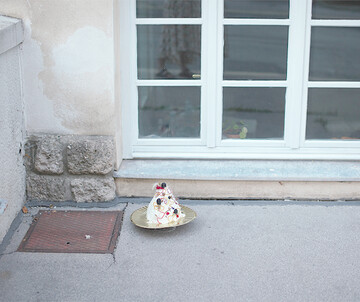 ---
All dates
• Days with event
01 fri
02 sat
03 sun
04 mo
05 tue
---
---
---
---
---
---
---
---
---
---
---
---
13 mo
14 tue
15 wed
---
16 thu
17 fri
18 sat
---
19 sun
20 mo
---
21 tue
22 wed
23 thu
24 fri
25 sat
---
26 sun
27 mo
---
28 tue
29 wed
30 thu
---
31 fri
Opening: Tue, Oct 5, 18:00

The writer Bodil Malmsten once said that she hates music because it is the one form of artistic expression that doesn't take the detour through the intellect, but rather manipulatively, goes straight to the heart. The same could be said about decoration.
The vases, the tablecloths, the figurines, the candleholders, the flowerpots, the knickknacks, the lamps, the blankets, the carpets, the pillows, the wallpapers. To decorate is to allow the subconsciousness of taste to surface. It is to lose oneself in the facilitation of visual and spatial pleasure and comfort. It is to acknowledge all the objects and images that we, on a purely practical level do not need, but depend on spiritually.
If we look at an artwork as an externalised thought process, decoration could be seen as an externalised emotional or intuitive process. It's all desire, pleasure and impulse. As I write this I realise the same could be said for art. Maybe the real difference is that with decoration we don't feel the need to ask any clever, well-formulated questions, casually referring to the theorist du jour. We don't expect there to be a text providing us with a context and a point of entry. We don't feel the need to understand, we just enjoy it to the deepest and fullest meaning of the word.
Text: Albin Bergström
Back to main navigation