20.10.2023 to 01.02.2024 - KABINETT comic passage
Host: Q21
Jeroen Funke: Happy Birthday!
FREE ENTRY, ART
---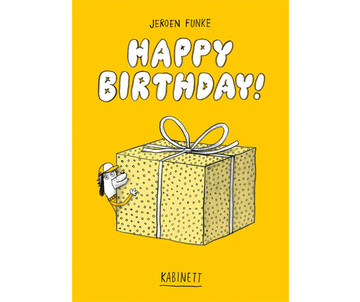 Exhibition and Booklet
Opening: Thu, 19.10., 18.30h
Happy birthday! is a story about a zealous dog that is out to surprise the one he loves for their birthday by carrying a giant present halfway across the world. Boy, this dog must really be in love! Incidentally, the tiny book itself serves as a perfect birthday gift too. It's even called 'Happy Birthday' If only you knew someone who's birthday was coming up …
Jeroen Funke is a comic artist, illustrator, small press self publisher, cardboarder, screen printer, patch maker, fabric artist and a member of Dutch comic collective Lamelos. He's also a fiancé and a dad. He does however enjoy some occasional guilt-free procrastination. He won the Jan Hanlo Media-essay prize for a Victor & Vishnu comic and the Comic Art Award for his self-published comic "The Lonely Cowboy".
Back to main navigation