15.09.2021 to 16.12.2021 - eSeL REZEPTION
Host: Q21
eSeL SHOP for usable art: "Cultural articles for urban nature development"
ART
---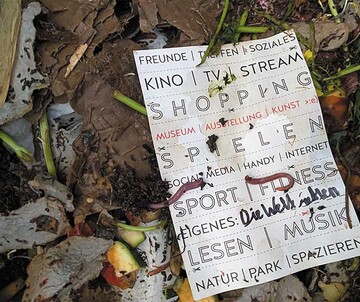 ---
All dates
• Days with event
01 wed
02 thu
03 fri
04 sat
05 sun
---
06 mo
07 tue
08 wed
09 thu
---
10 fri
---
11 sat
12 sun
13 mo
14 tue
---
---
---
---
---
---
---
---
---
---
17 fri
18 sat
---
19 sun
20 mo
---
21 tue
22 wed
23 thu
24 fri
25 sat
---
26 sun
27 mo
---
28 tue
29 wed
30 thu
---
31 fri
Artificial seeds for more green in urban space
Yellow flags against misguided urban planning of any color
Worm friends for more biocompost at home
Honey against bad mood >:e)
From September 15, the eSeL SHOP for useful art offers incentives for active participation in the greening of living and urban space: artists' edition and initiatives for a more sustainable life.
Artist Anita Fuchs fills vials with selected wild plant seeds, chosen exclusively for an urban wilderness art project in collaboration with an ecologist. "NATURE! Seeds" not only offers a splendidly blooming feast for the eyes at the lowest possible price, but also an important food source for insects.
In cooperation with Wurmkiste.at a colony of worms moves into the eSeL REZEPTION. They will not only process the culinary by-products of everyday office life into good compost in the eSeL REZEPTION, but will also digest Vienna's cultural program in the form of samples of selected cultural flyers for public consumption.
At the same time, the little REZEPTIONists demonstrate how anyone can have biowaste turned into humus at home with their own worm WG.
The yellow flags of the citizens' initiative "Freiraum Naschmarkt" (in which numerous artists and cultural workers from the neighborhood of the Naschmarkt are also actively involved) can now be picked up at the eSeL REZEPTION at cost price. With the omnipresent dandelion subject of the artist Bernhard Cella on a yellow flag, a public sign of protest for more co-determination (and against the unloved market hall) can be set on one's own window sill.
Honey from happy bees from the Mühlviertel complements the "cultural articles for urban nature development" as a tasty delicacy - freshly harvested from the surroundings of the eSeLSCHWARM.
Image: #eSeLSCHWARM: recreational priorities research in the worm box, Photo: eSeL
Back to main navigation