16.12.2021 to 20.02.2022
Host: Q21
eSeL: art comes from catalog
ART
---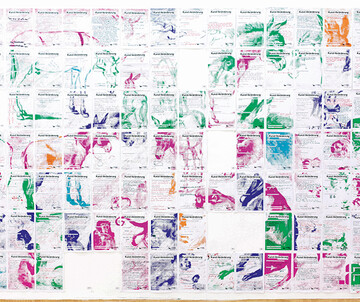 ---
All dates
• Days with event
01 wed
02 thu
03 fri
04 sat
05 sun
---
06 mo
07 tue
08 wed
09 thu
---
10 fri
---
11 sat
12 sun
13 mo
14 tue
15 wed
---
---
---
---
---
---
---
---
---
---
---
---
21 mo
22 tue
23 wed
24 thu
25 fri
---
26 sat
27 sun
---
28 mo
Due to current pandemic development there is unfortunately no opening.
Meetings and talks are possible during the opening hours of the eSeL RECEPTION (Mon-Thu 12-18h).
Covid regulations in force at the time apply.
The exhibition "Art comes from catalog" makes visible the first two decades from the art practice of eSeL as an "aesthetic lifeform". The inhalically deepening projects and exhibitions of Lorenz Seidler, active in Vienna's art fields since 1999 under the pseudonym "eSeL", complement the "participant observation" as art networker, photographer and operator of the digital information node eSeL.at.
Each individual issue in the "eSeL CATALOG" is dedicated to selected eSeL projects and exhibitions and highlights eSeL methods and strategies. The modular concept of the catalog summarizes the respective chapters in slipcases and can thus be continuously expanded with new projects.
The first presentation is dedicated to the projects "METANOIA" (donaufestival, 2008), "Schutzpatron:innen der Kunst" (Galerie 5020, 2019), "The Great Transformation Transformation" (Technologiegespräche Forum Alpbach, 2021), "Unframed Recontextualized" (Galerie Raum mit Licht x EIKON, "Tomorrow Is" (MAK, 2014), the "Sammlung eSeL" (Essl Museum, 2016) and the wonderful photo series "Klaus Albrecht" (2010-2021).
The accompanying exhibition in the "Gallery for Rights of Use" shows photographic and archival finds that were discovered in the course of further processing of the eSeL archive.
The "Shop for Useable Art" in the eSeL REZEPTION offers the first seven issues signed for sale.
Back to main navigation