26.05.2023 to 06.10.2023 - Brückenpassage
Host: Q21
Chiara Bals: A Root, a Limb, a Cord
FREE ENTRY, ART
---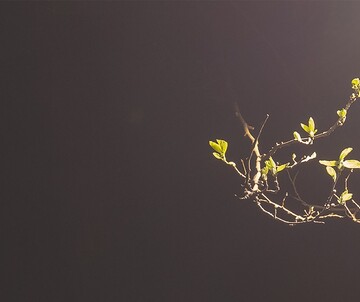 ---
All dates
• Days with event
You have selected the following event:
01 mo
02 tue
03 wed
04 thu
05 fri
---
06 sat
07 sun
08 mo
09 tue
---
10 wed
---
11 thu
12 fri
13 sat
14 sun
15 mo
---
16 tue
17 wed
18 thu
---
19 fri
20 sat
---
21 sun
22 mo
23 tue
24 wed
25 thu
---
---
---
---
07 sat
08 sun
09 mo
---
10 tue
---
11 wed
12 thu
13 fri
14 sat
15 sun
---
16 mo
17 tue
18 wed
---
19 thu
20 fri
---
21 sat
22 sun
23 mo
24 tue
25 wed
---
26 thu
27 fri
---
28 sat
29 sun
30 mo
---
31 tue
Opening: Thu 25.05., 17h
The trees here are full of lichen. I wonder how they feel. My grandmother tells me that trees with lichen are old or sick. In the forest, she often shared her knowledge of the plants with me that we could see on hikes and walks.
But I hardly remember it anymore.
On a walk together we hugged trees. Some felt warm, others cold. Many of these trees also had lichens. I didn't like it at all when they crumbled off from the hug and got stuck on my clothes. It felt uncomfortable on my skin as the lichen stuck to my sweaty hands and spread across my face when I touched it afterwards. Many tree swings have lined our path. The ropes had grown into some trees.
Such a tree still stands at the edge of the forest, very close to my grandmother's apartment. The rope has now almost completely disappeared into the branch. I wonder how he's feeling.
Text and photo: Chiara Bals
Chiara Bals (*1996 in Dornbirn) lives and works in Vienna.
Thu 25.05., 18h – 18.30h: Concert/Performance by Philipp Steinkellner: The Long Roll
Several drums are distributed in a radius of about 30 meters. Little by little, small motors placed on the drums will be switched on. Above and together with the drums, Philipp Steinkellner plays a bagpipe and sonically explores the space generated by the percussion instruments.
Philipp Steinkellner (*1998 in Baden) lives and works in Vienna.

"Pfeiler" is an exhibition space in the Brückenpassage/MQ.
Every three months, a work by graduates of the Sculpture and Space Department is on display here.
Back to main navigation