09.06.2021 to 10.10.2021 - designforum Wien
Host: Q21
Austrian Brand Stories
ART, FASHION & DESIGN
---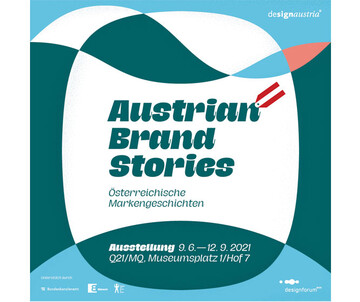 ---
All dates
• Days with event
01 tue
02 wed
03 thu
04 fri
05 sat
---
06 sun
07 mo
08 tue
---
---
---
---
---
25 fri
---
---
29 tue
---
---
---
---
11 mo
12 tue
13 wed
14 thu
15 fri
---
16 sat
17 sun
18 mo
---
19 tue
20 wed
---
21 thu
22 fri
23 sat
24 sun
25 mo
---
26 tue
27 wed
---
28 thu
29 fri
30 sat
---
31 sun
Opening hours: Mon-Fri 10am-6pm | Sat, Sun & Fri 1pm-6pm
Admission: € 4,- / reduced € 2,- / free for designaustria members
On Wed, Sep 08, the designforum Wien is closed until 13:00; and on Thu, Sep 09, it is closed from 13:00.
Brands play a decisive role in shaping our cultural environment. They are an integral part of the everyday aesthetics we perceive. With their appearances, their positions and values, brands create bonds and affiliations and thus establish long-term cultural and national identity.
You can find out about this and much more at our upcoming exhibition "Austrian Brand Stories - Österreichische Markengeschichten" at designforum Wien starting June 9.
Back to main navigation