04.05.2022 to 29.05.2022 - Komische Künste
Host: Q21
ART in cartoons
FREE ENTRY, ART
---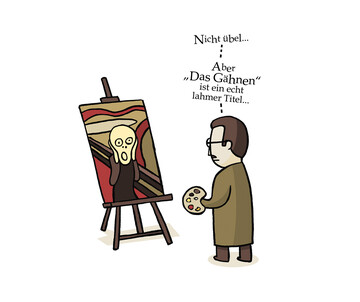 ---
All dates
• Days with event
01 sun
02 mo
03 tue
---
---
---
---
---
---
---
---
30 mo
---
31 tue
The current access regulations apply.
It's high time that a squad of first-class cartoonists devotes itself once again to the subject of ART. Finally learn everything you always wanted to know about it: Do nude models have to have something attractive? How does one behave correctly at the battle of the opening buffet? How many artists' ears do you have to cut off to gain inspiration? And where can you buy the most beautiful art fakes?
Enter the picture world of Ari Plikat, Bruno Haberzettl, Burkh, Daniel Jokesch, Huse, Katharina Greve, Matrattel, Oliver Ottitsch, Stefan Kahlhammer and many more.
Back to main navigation