29.04.2022 to 23.06.2022 - eSeL REZEPTION
Host: Q21
Anna Vasof: Service is our... Excess
FREE ENTRY, ART
---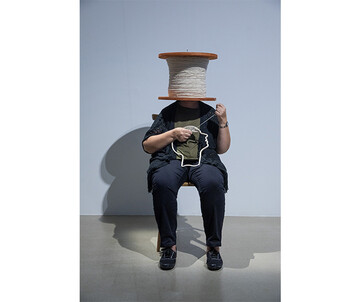 ---
All dates
• Days with event
01 fri
02 sat
03 sun
04 mo
05 tue
---
06 wed
07 thu
08 fri
09 sat
---
10 sun
---
11 mo
12 tue
13 wed
14 thu
15 fri
---
16 sat
17 sun
18 mo
---
19 tue
20 wed
---
21 thu
22 fri
23 sat
24 sun
25 mo
---
26 tue
27 wed
---
28 thu
---
---
---
---
---
---
---
24 fri
25 sat
---
26 sun
27 mo
---
28 tue
29 wed
30 thu
---
Opening: Fri 29.04., 19h
The artist Anna Vasof presents two works in and in front of the eSeL REZEPTION as an extension of her installation in the SCHAURAUM Angewandte of the Q21 showrooms.
With the "Operational Manager" the busy media artist places a representative of herself as a human-sized sculpture in front of the info desk in the eSeL REZEPTION, which humorously demands attention and the need for care with the means of botany.
The "BILLAUTOMAT" is also available to visitors of the Q21 showrooms outside office hours: "You put money in and what you get are ... bills".
Further interventions are to be expected.
A photo series on the use of humor and subversion in contemporary art accompanies Anna Vasof's installations in the eSeL GALERIE für Nutzungsrechte.
BILLAUTOMAT is a collaboration of Anna Vasof with Robert Bettinger, Danny Nedkova and Fabio Spink.
Back to main navigation