28.02.2021 to 29.05.2021 - TONSPUR_passage
Host: Q21
TONSPUR_interruption: Kollektiv Raumstation (AUT/GER/SUI): For Your Own Saftey
FREE ENTRY, ART
---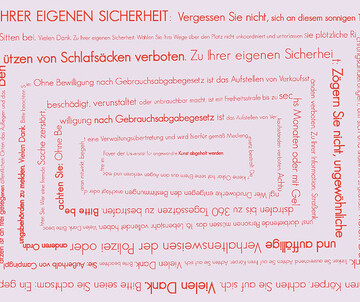 ---
All dates
• Days with event
01 mo
02 tue
03 wed
04 thu
05 fri
---
06 sat
07 sun
08 mo
09 tue
---
10 wed
---
11 thu
12 fri
13 sat
14 sun
15 mo
---
16 tue
17 wed
18 thu
---
19 fri
20 sat
---
21 sun
22 mo
23 tue
24 wed
25 thu
---
26 fri
27 sat
---
Preview: Sun, Feb 28, 17:00
2018
The Oskar Nimmt Platz project (at the University of Applied Arts Vienna) invited us to engage with behaviour conformity in public space. The audio installation Zu Ihrer eigenen Sicherheit (for your own safety) was the product of a critical artistic approach: Angela Schneider, the voice you hear on the Viennese public transport system (Wiener Linien), read through rules of behaviour, some directly from the legal statutes and some formulated by us.
2021
TONSPUR Kunstverein Wien has invited us to repeat the performance of Zu Ihrer eigenen Sicherheit in the TONSPUR_passage at the Museumsquartier Wien. In the meantime, however, public life has been dominated by a pandemic for over a year. Created in 2018 as a critique of an overprotective nanny state, increasing bureaucracy and so the de-politicisation of possible conflicts in public space, this project is now being presented again in a new context. The issue of 'safe' behaviour in public has gained significantly in relevance through the pandemic. The interpretations of terms like safety and health have shifted: While in 2018 the primary issue was the subjective safety of the privileged from harassment and filth, or 'maintaining public order', today safety is focused on legislation that applies to everybody in order to minimise the risk of infection in shared urban space. Health no longer primarily signifies the neoliberal transfer of responsibility for effectivity to the individual but to the struggle to contain an immediate health hazard. While an awareness of ubiquitous regulations appeared forced and mainly present in marginalised groups (due to nationality, ethnicity or gender) it is now becoming part of a collective debate.
What remains negotiable for us is the mode of communication for a necessary set of rules: How can and should public education function in this context? We are still critical of communication that gives the other person unrequested moral advice in a tone of false politeness. For the clear expression of rules for all in the sense of communal togetherness is especially important now in order to be able to maintain public life during a pandemic.
Kollektiv Raumstation, founded in Weimar, Germany in 2013, also has platforms in Berlin, Vienna and Zurich • This project was created by Helena Bernhardt, Gunnar Grandel, Silvan Hagenbrock, Hannah Niemand, Alice Reinhard, Sarah Zelt and Kristina Hinrichsen as the 77th TONSPUR-Artist-in-Residence at Q21/MQ.
Back to main navigation