04.03.2021 to 08.04.2021 - Jan Arnold Gallery, STREET ART PASSAGE VIENNA
Host: Q21
RUIN: Aquarianer
FREE ENTRY, ART
---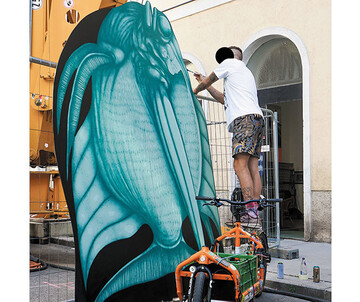 ---
All dates
• Days with event
---
09 fri
---
10 sat
---
11 sun
12 mo
13 tue
14 wed
15 thu
---
16 fri
17 sat
18 sun
---
19 mo
20 tue
---
21 wed
22 thu
23 fri
24 sat
25 sun
---
26 mo
27 tue
---
28 wed
29 thu
30 fri
---
Venues: Jan Arnold Gallery, Q21 Showrooms and #Streetartpassage (Entrance Breite Gasse)
Due to the pandemic this year, we skip the Q21 - Artist in Residence Program, that said it's time to have a look at the local scene instead. The Jan Arnold Gallery as well as the #Streetartpassage are glad to present new work by the diligently working Urban Art artist RUIN. Therefore, the showroom transforms to an aquarium for a large scale fish painting, which we know from the multiple murals by the artist on Viennese Streets. Also there will be a new piece by the artist installed at the elevator tower of #Streetartpassage visible for the upcoming months.
On account of Covid regulations there won't be an exhibition opening this time, but the showroom Jan Arnold is accessible to the public 10AM-10PM every day, the #Streetartpassage is open 24/7.
Anthroposchön?
15.09.2021 to 16.12.2021 - eSeL REZEPTION
eSeL SHOP for usable art: "Cultural articles for urban nature development"
15.09.2021 to 16.12.2021 - eSeL REZEPTION
Kathrin Hunze: Data Me: Data Sugar
30.08.2021 to 31.10.2021 - Raum D / Q21
Augusta Laar und Stefan Stratil: Plastic Religion - Kenwalk Vivus Funeratus
02.09.2021 to 19.11.2021 - ASIFAKEIL
Supporting program to the exhibition "Overground Resistance"
25.08.2021 to 21.11.2021 - frei_raum Q21 exhibition space
Alan Butler. Ein Vorbild bildendes Abbild eines Bildes
02.09.2021 to 22.11.2021 - EIKON Schauraum
Jakob Urwanisch
03.09.2021 to 04.11.2021 - Combinat
Back to main navigation