05.03.2021 to 21.05.2021 - EIKON Schauraum
Host: Q21
Markus Guschelbauer: Symbols & Signs
FREE ENTRY, ART
---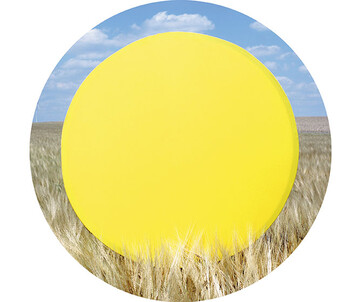 ---
All dates
• Days with event
01 mo
02 tue
03 wed
04 thu
---
---
---
---
---
---
---
---
---
---
---
---
---
---
---
22 sat
23 sun
24 mo
25 tue
---
26 wed
27 thu
---
28 fri
29 sat
30 sun
---
31 mo
Opening Hours: Thu and Fri, 2 pm to 6 pm
The theme of landscape and its representation in the visual arts as well as the theoretical discourse on nature, form the main concerns in Markus Guschelbauer's artistic practice. In his photographs, Guschelbauer places artificial objects—mostly simple graphic elements or geometric shapes—in natural landscapes, therefore creating a moment of abstraction and irritation in the perception of our environment. The basic forms of the resulting photographs double the monochrome center and thus become signs themselves, oscillating between index, icon and symbol. In the serial arrangement the photographs merge into a complex system of signs and debate landscape space, identity and the appropriation of nature.
A main feature in the latest issue EIKON #113 is dedicated to the artist.
Markus Guschelbauer (born 1974 in Friesach, lives and works in Vienna) studied at the Institute for Visual and Media Arts at the University of Applied Arts Vienna. He has been working as a freelance artist since 2009 with photography, video and installation works. His first monograph Territory was published by Fotohof in 2020.
Exhibitions (selection): Photon Gallery, Vienna (2020), Galeria Posibila, Bucharest (2019), Kjerringoy Land Art Biennale, Kjerringoy (2018), MMKK Klagenfurt (2017), Volkskunde-museum, Graz (2016) ACF, London (2015), Strathmore Fine Arts, North Bethesda (2013)
Residencies (selection): Cultureland, Amsterdam (2018), Montello Foundation, Nevada (2017), 108residency, Upstate NY (2016), BaerArtCenter, Iceland (2015).
Image: © Markus Guschelbauer, 2017
opening hours
| | |
| --- | --- |
| mo-wed: | closed |
| thu-fri: | 14-18h |
| sat-sun: | closed |
---
Back to main navigation