09.12.2020 to 10.05.2021 - EDUCULT
Host: Q21
Salon of Cultures: "Roots: Ursprung und Erscheinung"
FREE ENTRY, ART
---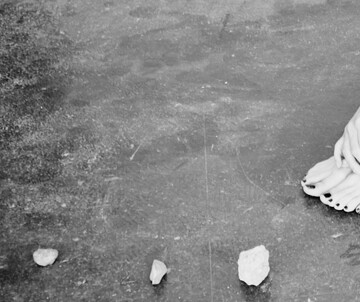 ---
All dates
• Days with event
01 tue
02 wed
03 thu
04 fri
05 sat
---
06 sun
07 mo
08 tue
---
---
---
---
---
---
---
---
---
---
---
11 tue
12 wed
13 thu
14 fri
15 sat
---
16 sun
17 mo
18 tue
---
19 wed
20 thu
---
21 fri
22 sat
23 sun
24 mo
25 tue
---
26 wed
27 thu
---
28 fri
29 sat
30 sun
---
31 mo
In the frame of "Salon of Cultures" the artists Marwa Sarah, Reem Jarbou, Akram Al Alabi, and "Lieber Michael" will present contemporary works in their joint exhibition "Roots: Origin and Appearance." The opening will take place online on December 9, 2020 at 7:00 PM. The exhibit will be exclusively online to begin with, but as soon as the COVID-19 situation allows, guests are invited to view the exhibit in-person in EDUCULT's space. The exhibit is curated by Osama Zatar.
"Roots: Origin and Appearance" showcases encounters between artists who live and work in Vienna, but who all have different backgrounds. The exhibit tells stories of migration, socio-cultural appearances, and controversies in the Arabic and western World through multiple art forms, including photography, visual art, and transmedia pieces.
Marwa Sarah
Marwa Sarah was born in Syria and lives and works in the capital city of Austria. She is not only an artist, but also an active member and founder of multiple initiatives with focal points including art workshops, social research, and integration. Her reflections and art are often based on true stories and research on the psychological and philosophical aspects of asylee and immigrant experiences. Currently she ties her art in with her social work and regularly exhibits in Europe and Arab countries.
Reem Jarbou
Reem Jarbou is an Arab feminist, storyteller, photographer, and author living in Vienna. Above all, her works deal with gender questions in the Arab world. Her work concentrates on themes of captivity and isolation, both psychologically and socially. Through this, she investigates different cultural and patriarchal structures and challenges her subjects to be the protagonists of their own narratives and to include themselves in their installations. She often mixes her communicative background with legal texts, which, in combination with photographs and video installations, have a gender specific orientation.
Akram Al Halabi
The artist Akram Al Halabi, born in part of the occupied Golan Heights called Madjal Shams, is a founder of the Fateh Al Mudarres Art Center in Golan. He has taken part in an art retreat in Umea, Sweden, as well as in group exhibits in Vienna, Bordeaux, Umea, Paris, Cairo, and Istanbul, as well as in Syria and Palestine. His work concentrates on condensing forms of human expression through daring representation of the human body in paintings, sculptures, wood cuttings, and prints. He has recently begun incorporating digital approaches to depict the effects of the war in Syria, adding his own vision into existing digital pictures.
Lieber Michael
"Lieber Michael" is a multidisciplinary, contextual artist from Vienna. He is a graduate of the "Viennese school of art." He finds himself in the infinite experiment between media and its intersections. Oil on canvas, graphics, video and sound installations, 3D animation, and video games are a set of tools that the artist can use on his creative journey.
Bild: Photograph by © Reem Jarbou
Back to main navigation