23.09.2020 to 31.12.2020 - STATION ROSE
Host: Q21
STATION ROSE: STReaming - Art not only during lockdown
FREE ENTRY, ART, FILM & DIGITAL CULTURE
---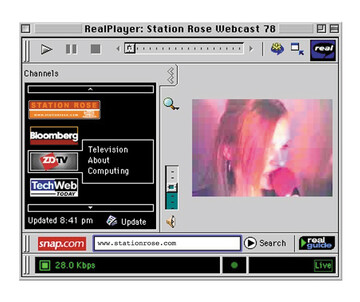 ---
All dates
• Days with event
01 tue
02 wed
03 thu
04 fri
05 sat
---
06 sun
07 mo
08 tue
09 wed
---
10 thu
---
11 fri
12 sat
13 sun
14 mo
15 tue
---
16 wed
17 thu
18 fri
---
19 sat
20 sun
---
21 mo
22 tue
---
---
---
Opening: Wed, Sep 23, 19:00 (tbc)
Ritual STReaming Re-enactment:
Get your shoes off. Sit-In 2020 in the STATION ROSE-studio. Lockdown at the "digital campfire" (STR 1991).
After a short nervousness about global Covid-19 lockdowns, we realized that we had already experienced a similar situation artistically when we excluded the outside world in the 1990s and made self-experiments on "social distancing "." More on this in the new issue of EIKON No. 110/111.
Image: STATION ROSE Webcast 78, 2000
Back to main navigation