23.06.2020 to 28.06.2020 - SCHAURAUM Angewandte
Host: Q21
remote sandbox: manifest
FREE ENTRY, ART, FILM & DIGITAL CULTURE
---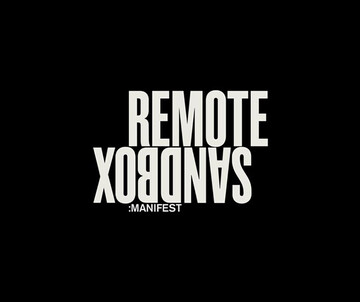 ---
All dates
• Days with event
01 mo
02 tue
03 wed
04 thu
05 fri
---
06 sat
07 sun
08 mo
09 tue
---
10 wed
---
11 thu
12 fri
13 sat
14 sun
15 mo
---
16 tue
17 wed
18 thu
---
19 fri
20 sat
---
21 sun
22 mo
---
---
29 mo
30 tue
---
At the end of a challenging semester, this year´s Angewandte Festival will take place from 23-26 June, 2020, in digital as well as in public spaces. It will present the artistic activities of the University of Applied Arts Vienna. The contribution of the DIGITAL ARTS department, entitled remote sandbox, consists of several dislocated projects.
In the SCHAURAUM Angewandte, the works and formats developed at the department for the festival (performances, interventions, video streams, etc.) are brought together in a spatial setting. Insights into the production, sketches, and artistic implementations from the projects manifest as a media collage. remote sandbox manifest will be on display beyond the duration of the Angewandte Festival until Sunday, 28 June.
remote sandbox participants:
Sara Anzola D´Andrea, Manuel Cyrill Bachinger, Hanna Besenhard, Lucy Carrick, Aral Cimcim, Ferdinand Doblhammer, Marian Essl, Ulrich Formann, Kilian Hanappi, Thomas Hochwallner, Jakob Hütter, Anton Iakhontov, Bi-in Jin, Haris Kahriman, Johannes Krumböck, Hanna Mikosch, Isabelle Orsini-Rosenberg, Azalea Ortega, David Osthoff, Vasiliki Papadopoulou, Elisa Pezza, Sebastian Pfeifhofer, Luca Sabot, Jakob Schauer, Hans Schmidt, Patryk Senwicki, Verena Tscherner, Anastasia Voloshina, Agnieszka Zagraba, et al.
remote sandbox artistic guidance: Stefano D´Alessio, Thomas Felder, Klaus Filip, Johannes Hucek, Nicolaj Kirisits, Martin Kusch, Marie-Claude Poulin, Ulla Rauter, Patrícia Reis, Ruth Schnell, Rini Tandon
remote sandbox: manifest Concept, exhibition design: Martin Kusch, Marie-Claude Poulin, Rini Tandon
remote sandbox: manifest Set-up, technical realisation: Johannes Hucek, Konrad Prissnitz
remote sandbox: manifest Coordination: Tommy Schneider
Back to main navigation