01.03.2020 to 28.04.2020 - TONSPUR_passage
Host: Q21
TONSPUR 84: Paul Brody (USA): 5 Mini Operas in Ordinary Language
FREE ENTRY, ART, DANCE/PERFORMANCE/MUSIC
---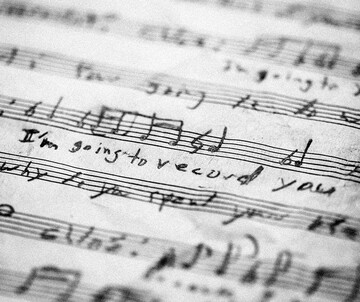 ---
All dates
• Days with event
Opening: Sun, Mar 1, 17:00
5 Mini Operas in Ordinary Language
An immersive sound installation for the TONSPUR_passage
5 Mini Operas in Ordinary Language grew out of a commission for the Opéra National de Lorraine, in Nancy, France. The libretto of Paul Brody's upcoming work will be constructed from interviews with local residents about love, and the music is derived from note-for-note transcriptions of the melodies of the recorded voices. A 30-piece choir and four soloists will bring those stories and voice-melodies on stage of the baroque opera house.
5 Mini Operas in Ordinary Language provides a counterpoint to grand opera project. Through recorded interviews, it explores the singing qualities of the everyday speaking voice. Brody experiments with compositional techniques to direct the listener's ear to the independent musical qualities of the voice. Words become secondary.
Listening Differently
Much of Brody's work is based on the premise that daily conversation contains as much melodic expression as an operatic aria. The spoken voice has its own narration, independent of subject matter, formed by the speaker's life history: family background, geography, age, mood, perhaps even genetic memory. We often filter out this information to focus on the subject matter. Despite all its expressive power, our speaking voice is usually just a servant of words--except in extreme cases: crying, laughing, utterances inspired by food and sex. At the outer limits of expression, our voice leaves words and becomes its own instrument.
5 Mini Operas is an immersive sound installation that attempts to topple the hierarchy of listening by unhooking syntax and freeing the voice from the tyranny of subject matter, redirecting the ear to the narrative of the voice itself.
Words, Words, Words
The sound installation consists of five short interviews about language and belonging. The interviewees tell us how finding their voice gave them a sense of belonging, an innerHeimat. The listener will hear a few selected interviews from Brody's past projects combined with new interviews. Both in English and German.
Following operatic tradition, each part of 5 Mini Operasin Ordinary Language begins with a short overture--a mini homage to one of Brody's primary musical influences, Anton Webern.
Then the interviewees share anecdotes illustrating an awareness of their own accent. Opera singer Anna Prohaska explains how her family moved from city to city when she was young. By the time she acquired the accent of the newly adopted home, her family would move again, so she always had the wrong accent--until she discovered singing. Filmmaker Dani Levy brings us from a bubbling small-town Swiss-German dialect to cool-talking urban Berlin. Actress Jelena Kuljić describes her conflicted relationship with traditional Serbian music. Paris radio producer Chloé Kobuta searches for love in an anecdote from an interview about searching for love. And Paul Brody offers an autobiographical account of his struggles with dyslexia and finding his voice in the trumpet.
Tradition
Finding musical inspiration from voice-melodies goes back to early opera. The baroque opera was not aria oriented, but a string of recitatives. That is, a kind of heightened speech-singing strung into a story.. The composer, Leoš Janáček, was obsessed with vocal patterns. He transcribed them constantly and enjoyed putting them in his compositions. Steve Reich's Different Trains is perhaps the most well known voice-melody oriented composition. Brody's interest in vocal patterns bridges both artistic and anthropological. His music seems to ask, Where does this voice-melody come from? What does it tell us about this person?
The Sound Installation has been composed by Q21 Artist-in-Residence Paul Brody.
Image: © Paul Brody ● photograph taken by Dirk Hasskarl, Berlin
Back to main navigation