07.01.2020 to 22.05.2020 - Brückenpassage
Host: Q21
Philip Pichler: Gift
FREE ENTRY, ART
---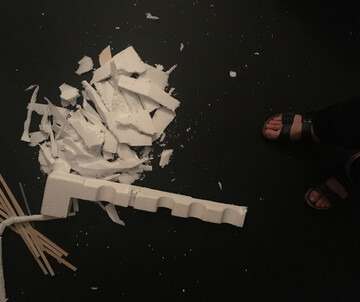 ---
All dates
• Days with event
01 wed
02 thu
03 fri
04 sat
05 sun
---
06 mo
---
---
---
---
---
---
---
---
---
---
---
---
---
---
23 sat
24 sun
25 mo
---
26 tue
27 wed
---
28 thu
29 fri
30 sat
---
31 sun
Opening: Tue, Jan 07, 18:00
Lower volume in higher frequencies, deep layered brown noise. Like a whole ocean, rumbling between 5 and 9 Hz. A frequency, lower than the limit of human hearing.
A "rough" present to the sleep deprived person. Relaxing and calming deep sleep aid. The downside: Earbuds prevent me from being a side sleeper. Gotta stay on my back at all times.
(Ab morgen keine toxische Feinstaub Belastung sondern autofreie Innenstadt; ein möglicher Wunsch. Das Gegenteil: Ein vermeintliches Geschenk für die Allgemeinheit. "Liebe Mieterinnen und Mieter, bitte Entschuldigen sie die nächtliche Störung in den kommenden Wochen [...]" - Herr Oberbürgermeister. Persönliche Unterschrift. Acht Spuren sind die Zukunft vor dem Fenster.)
Typically, I prefer smoothed brown noise. It is not as rough. Mixes on streaming plattforms are between 6 and 12 hours long. Cancelling most noise, making sense of my existence.
- Daniel Stubenvoll
Back to main navigation