06.12.2019 to 30.05.2020 - EDUCULT
Host: Q21
Salon der Kulturen: "Auflösung_Dissolution"
FREE ENTRY, LITERATURE & DISCOURSE, ART
---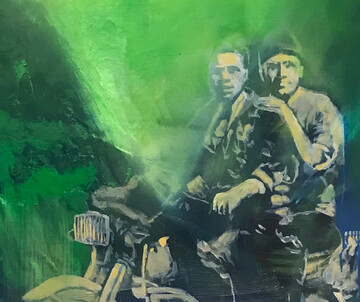 ---
All dates
• Days with event
01 sun
02 mo
03 tue
04 wed
05 thu
---
---
---
---
---
---
---
---
---
Salon der Kulturen: "Auflösung_Dissolution"
Venue: EDUCULT at Q21/MuseumsQuartier Wien
Artists Anna Vasof, Lorenz Kunath and Sami Ajouri present their latest artworks under the heading "Auflösung_Dissolution" in the course of Salon der Kulturen. The exhibition is curated by Osama Zatar.
The architect and media artist Anna Vasof summarizes her working strategy as follows: "I go to the heart of every question and start from zero, reinventing core premises with my own perspective." At the center of Lorenz Kunath's art is nature as subject in its raw form. With his photographs and paintings, he shows details that are seldom considered remarkable by ordinary viewers. Sami Ajouri's abstract works and portraits have their core in authenticity and are defined by figurative representations, questioning the conventional values of an art object.
Back to main navigation