19.11.2019 to 19.11.2019 - Raum D / Q21
Host: Q21
It Never Is!
FREE ENTRY, ART, DANCE/PERFORMANCE/MUSIC, FILM & DIGITAL CULTURE
---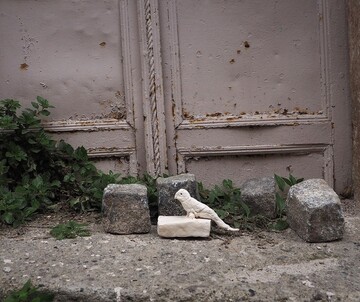 ---
All dates
• Days with event
01 fri
02 sat
03 sun
04 mo
05 tue
---
06 wed
07 thu
08 fri
09 sat
---
10 sun
---
11 mo
12 tue
13 wed
14 thu
15 fri
---
16 sat
17 sun
18 mo
---
20 wed
---
21 thu
22 fri
23 sat
24 sun
25 mo
---
26 tue
27 wed
---
28 thu
29 fri
30 sat
---
Film- and Video-Screening: 16:30
Performance: 17:00
The project It never is! examines alternative models to substantial forms of habitation as well as to political hegemony, which call for an understanding of various modes of interaction in order to challenge for predetermined forms of conflicting forces. At the same time, it probes the issue of what cultural hegemony denies in circumstances of variable forms of peculiarity that foster the social process being marginal of national contexts.
Tim Brennan: Vienna Manoeuvre
Performance
Vienna Manoeuvre is a multipart work that combines references to Gunter Brus's 1965 artwork 'Action Number Six: Vienna Walk' and Samuel Beckett's 1966 short story 'Ping'. Central to Tim Brennan's work is his re-writing of 'Ping' around the themes of walking, alienation and the deracinated experience. In addition to the multiple readings the work might create it also has a subtle but important reference to the artist's birth and art practice. Both works by Brus and Beckett span the period of Brennan's own gestation (1965) and birth (1966). A further reference is that performance, walking and writing are key characteristics of Brennan's 30-year practice.
Hera Büyüktaşçıyan: Neither on the Ground, Nor in the sky
Video
The video work Neither on the Ground, Nor in the sky is inspired by the story of the bird who has been traveling between geographies yet never lands on his own foundations, and the similarity of his story with the Zeus Altar that was brought to Germany, taken away from his roots. Here, the parakeet mosaic gets becomes an embodiment of his visual representation and comes back to where everything has started and rewind his own story by also addressing to timeless questions of foundations, being in between state and a sense of cleaning history by facing with it. In a way, it is a sense of unfolding memory to unlearn what is hidden within our mental spaces and reread history through this journey.
Igor Grubić: East Side Story
Video
The video workEast Side Story is a that juxtaposes documentary footage with a re-enactment of that footage through the medium of dance. This combines television footage taken from two separate gay pride events that took place in Igor Grubić's native Croatia, one in Belgrade in 2001 and one in Zagreb in 2002. At both these parades the participants became subjected to verbal and physical abuse, as well as organised violence coordinated by groups of neo-Nazi supporters. Passers-by who happened to be at the scene also became involved, joining in the acts of violence, resulting in footage that is both disturbing and uncomfortable to watch. Grubić alternates scenes from the two events on one screen.
Ibro Hasanović: Spectre
Video
Spectre is a meditation on decay and death; on the ways memory haunts and affects the present. The film was shot on Yugoslav Navy Yacht GALEB which Josip Broz Tito used for parties, foreign visits and diplomacy. Once a glamorous symbol of Yugoslav history, the yacht now sits abandoned in a shipyard.
Project curator: Gülsen Bal
Back to main navigation