01.08.2019 to 31.01.2020 - Gruppe Or-Om, Raum D / Q21
Host: Q21
NEW Publishing. Koy Imsi: Offene Gesänge. Roman.
FREE ENTRY, LITERATURE & DISCOURSE, ART
---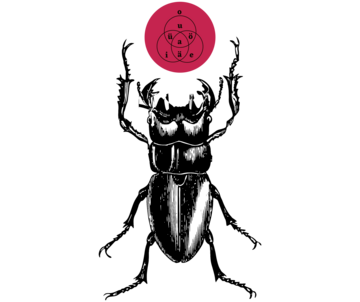 ---
All dates
• Days with event
Der Roman "Offenen Gesänge" von KOY IMSI bildet in mehrerer Hinsicht den Übergang der Romantheorie in eine neue Evolutionsstufe.
In einer Anrufung wird die Muse, Tochter des Kronion, gebeten, vom Helden zu erzählen, der in flibonischer Irrfahrt versuchte, aus der Zeit zu treten und jenseits derselben neue Länder und Gestade zu finden. Die Muse kündet davon, dass die Reisen Orindos als Spur eines Käfers auf dem Waldboden zu lesen waren und enträtselt den Schachtelsatz der Erzählung, der in seiner Komplexität nicht leicht entschlüsselt werden kann.
Der Roman thematisiert die Grenzen menschlicher Phantastik im Verhältnis zu unendlichen Vernunftkategorien des Höchsten Wesens.
Auf der Grundlage der Nachdichtung eines Sufi – Diwans wird als Erweiterung der Idee des Westöstlichen Diwans ein Universaldiwan jenseits aller bisherigen Religionen vorgestellt.
Es folgt ein philosophischer Diskurs über die Frage, wie Erkenntnis, Bewusstsein und Sprache zusammenhängen, und welche Grenzen dichterische Schau, Intuition und Sprachverwandlung besitzen.
Der nächste Gesang ringt um das Rätsel der Zeit. Ist Wandel wandelbar oder ewig? Auch hier wird ältere Dichtung zum Zeitproblem aufgerufen und werden neue, göttliche Strukturen der Zeit und der Sphären jenseits der Zeit angedeutet.
Der Übergang aus den kritischen Weltzeitaltern in die Zeit der Vollreife – in der bisherigen Prophetie immer wieder in allen Völkern angekündigt – wird besungen. Der Übergang in eine harmonisch lebende integrierte Menschheit wird verkündet.
Die Gesänge gelten als "Offene Gesänge" weil grundsätzlich die Möglichkeit besteht, dass künftig auch andere Dichter an bestimmten Stellen, sowohl eigene visionäre, als auch traditionelle Zusätze einfügen. Die Gesänge begleiten die Evolution der Menschheit und sind selbst ein Teil derselben.
Es gibt keinen konkreten Namen eines Verfassers des Romans. Es besteht kein ©-Anspruch eines Autors. Das Buch gehört der gesamten Menschheit. Das Werk darf nur kostenlos vertrieben werden. Die Integration des Werkes in die Rechtsstrukturen eines traditionellen Verlages ist nicht möglich.
Back to main navigation