12.06.2019 to 13.10.2019 - Brückenpassage
Host: Q21
Eugen Wist: unwanted souvenir
FREE ENTRY, ART
---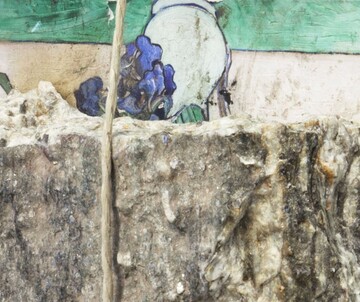 ---
All dates
• Days with event
01 sat
02 sun
03 mo
04 tue
05 wed
---
06 thu
07 fri
08 sat
09 sun
---
10 mo
---
11 tue
---
---
---
---
---
---
---
---
---
14 mo
15 tue
---
16 wed
17 thu
18 fri
---
19 sat
20 sun
---
21 mo
22 tue
23 wed
24 thu
25 fri
---
26 sat
27 sun
---
28 mo
29 tue
30 wed
---
31 thu
Opening: Tue, June 11, 18:00
Eugen Wist: "unwanted souvenir"
It is flat and called schiefer
It has a name and… gesture gesture… with my hand from the sidewalk
I can´t stop hating myself for the dried flowers on my wall
I made you this kit for overcoming the past
the orderly Altbauwohnung and circumstances
In sci-fi movies I fall for all the vases that have been left over in this world
My eyes burn
This is an urgent wish to make a book of all the poems about toxic nostalgia,
that hurt the make-great-agains.
Text: Julia Znoj
For "Pfeiler" the Vienna/Frankfurt based artist Eugen Wist (*1989, Sheregesh, Russia) developed a site specific situation. The window glass is blurred by a greenish substance and leaves just a peephole for the viewer to see a wall object, – a book with a screen print, a postcard with an image of one of Van Goghs flower paintings and a found stone. All of the materials are bound together by a rope holding in place the layered composition.
Back to main navigation