21.03.2019 to 16.04.2019 - Jan Arnold Gallery
Host: Q21
transformative embodiments
FREE ENTRY, ART
---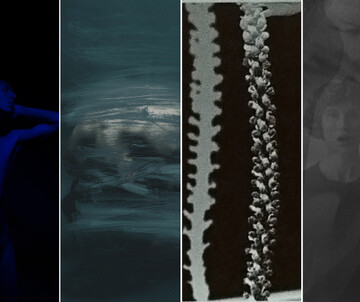 ---
All dates
• Days with event
01 fri
02 sat
03 sun
04 mo
05 tue
---
06 wed
07 thu
08 fri
09 sat
---
10 sun
---
11 mo
12 tue
13 wed
14 thu
15 fri
---
16 sat
17 sun
18 mo
---
19 tue
20 wed
---
---
---
---
---
---
---
---
17 wed
18 thu
---
19 fri
20 sat
---
21 sun
22 mo
23 tue
24 wed
25 thu
---
26 fri
27 sat
---
28 sun
29 mo
30 tue
---
Opening: Thu, Mar 21, 19:00
Finissage: Tue, Apr 16, 19:00
The group exhibition transformative embodiments shows a cross-section of young artistic positions that deal in particular with one's own and other bodies through the photographic medium.
MANUEL CARREON LOPEZ performatively creates self-portraits, that serve as fugitive sculptural material. The body is fixed into a permanent composition by translating the images into the resulting photographic objects.
KATRIN HANGA uses her pictures to develop an individual poetic imagery, in which body and gaze intertwine with the materiality of the photographic technique.
ANNAMARIA KOWALSKY explores the boundaries between condensed image planes in her self-portrait series Anonymous through photography and painting. The seemingly frank view onto the averted body is hidden in paint, to be cut through again.
THERESA WEY photographs mainly in autobiographical contexts. Portraits become testimonies of encounters, to make herself and others visible in images that reflect relationships and intimacy.
PARTICIPATING ARTISTS
MANUEL CARREON LOPEZ (* 1987 Mexico City)
studied photography at the Graphische and Fine Arts at the Academy of Fine Arts Vienna. He lives and works as photographer and artist in Vienna.
KATRIN HANGA (*1988 in Vienna) studied Film & Theater Studies at the Sorbonne Nouvelle & École Internationale de Théatre Jacques Lecoq in Paris. She graduated from the Friedl Kubelka School and is currently studying Visual Arts at the Academy of Fine Arts Vienna.
ANNAMARIA KOWALSKY (*1991 in Coburg) studied music at the University of Music and Performing Arts and Philosophy at the Academy of Fine Arts Vienna. She works as musician, composer, and artist at home and abroad.
THERESA WEY (*1987 in Königstein in Taunas, near Frankfurt/Main) studied Theater, Film, and Media Studies, German Philology, such as Musicology at the University of Vienna and has been working as photographer since graduating in 2014. Since October 2018 she studies Artistic Photography at the Friedl Kubelka School.
Back to main navigation