23.02.2019 to 23.02.2019 - Raum D / Q21
Host: Q21
Rosabel Rosalind Kurth-Sofer: Not Kosher
FREE ENTRY, ART, DANCE/PERFORMANCE/MUSIC
---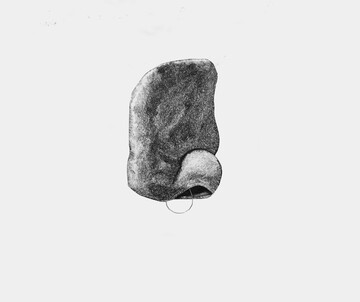 ---
All dates
• Days with event
01 fri
02 sat
03 sun
04 mo
05 tue
---
06 wed
07 thu
08 fri
09 sat
---
10 sun
---
11 mo
12 tue
13 wed
14 thu
15 fri
---
16 sat
17 sun
18 mo
---
19 tue
20 wed
---
21 thu
22 fri
24 sun
25 mo
---
26 tue
27 wed
---
28 thu
Opening: Sat, Feb 23, 17:00.
Performances:
19:00: Havdalah Ritual
20:00: Drei Juddische Lieder
Rosabel Rosalind Kurth-Sofer approaches the human body as an ambiguous space of contention and a complex system of various identities. Through drawing, painting, and printmaking, she depicts fantastical and grotesque caricatures with a sense of empathy, and in so doing she celebrates those who are underestimated and misunderstood.
Rosabel is an artist from Los Angeles, California. She was raised in a conservative community and has grappled with her "jewishness" since as early as she could remember. She is currently on a Fulbright Austria Study grant, to research the Anti-semitic artwork in the Schlaff collection at the Jewish Museum Vienna. She has been living in Vienna for five months and in that time she has produced a vast collection of visual responses to her research.
She documents her discoveries in the form of abstract self-portraits and visual explorations of her cultural body, that is, a body belonging to more than just herself. In reworking the grotesque, discriminatory portraits in the museum's collection, she transforms the Jewish body into something that celebrates collective Jewish consciousness.
The work on view in NOT KOSHER is a collection of her early experiments with these subjects. This exhibition serves as a visual consummation of methodologies which she has employed over the last five months, to process the imagery within the Jewish Museum's archives.
This project aims to honor a collective consciousness through intimate snapshots of the Jewish soul within Jewish life. And in so doing she hopes to foster a new relationship with her faith and her culture, by celebrating something larger than herself. Rosabel uses portraiture as a vehicle for resistance and activism, in a way that conjures her cultural body, and rejoices in the beauty of Judaism that gives her Jewish identity meaning.
Back to main navigation