23.11.2017 to 26.11.2017 - monochrom
Host: Q21
ROBÖXOTICA 2017
ART
---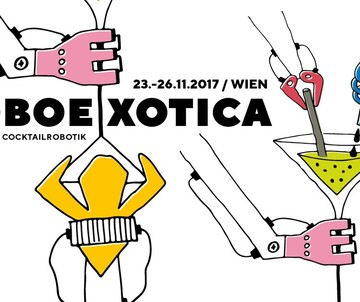 ---
All dates
• Days with event
01 wed
02 thu
03 fri
04 sat
05 sun
---
06 mo
07 tue
08 wed
09 thu
---
10 fri
---
11 sat
12 sun
13 mo
14 tue
15 wed
---
16 thu
17 fri
18 sat
---
19 sun
20 mo
---
21 tue
22 wed
---
27 mo
---
28 tue
29 wed
30 thu
---
Venue: REAKTOR Wien, Geblergasse 40, 1170 Vienna

monochrom, shifz and he Bureau für Philosphie present the annual Festival for Cocktail-Robotics - this year featuring Q21 Artists-in-Residence Sophia Cacciola & Michael J. Epstein (USA).

Until what seems almost recently, no attempts had been made to publicly discuss the role of Cocktail Robotics as an index for the integration of technological innovations into the human Lebenswelt, or to document the increasing occurrence of radical hedonism in man-machine communication. Roboexotica is an attempt to fill this vacuum. It is the first and, inevitably, the leading festival concerned with cocktail robotics world-wide. A micro mechanical change of paradigm in the age of borderless capital. Alan Turing would doubtless test this out.
For more info please visit:
www.roboexotica.org
Back to main navigation