30.11.2017 to 23.02.2018 - SCHAURAUM Angewandte
Host: Q21
Bill Seaman (USA): An Engine of Many Senses (2013/2017)
ART
---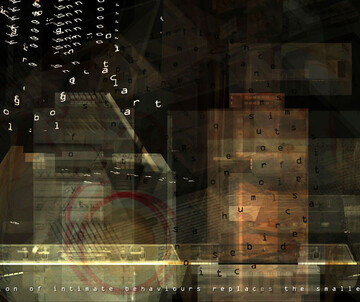 ---
All dates
• Days with event
01 wed
02 thu
03 fri
04 sat
05 sun
---
06 mo
07 tue
08 wed
09 thu
---
10 fri
---
11 sat
12 sun
13 mo
14 tue
15 wed
---
16 thu
17 fri
18 sat
---
19 sun
20 mo
---
21 tue
22 wed
23 thu
24 fri
25 sat
---
26 sun
27 mo
---
28 tue
29 wed
---
---
---
---
---
---
---
24 sat
25 sun
---
26 mo
27 tue
---
28 wed
Opening: Thu, Nov 30, 19:00
Venue: SCHAURAUM Angewandte
Admission free

An Engine of Many Senses is a generative computational work exploring the history and potential future of the computer.
It includes a series of media elements that combine and recombine over time -- 3d images, 2d stills, generative audio, generative
media "landscapes", generative text and video components. The work has a series of internal rules that play out different combinatoric
strategies as drawn from an extensive database of architectural topologies and processes. In particular the work includes a
series of allegorical time-based images of computers as well as collaged images from the history of the computer and computational history in general.

Credits:
generative installation | captured video/audio output from real-time engine (32:9 aspect ratio for two screens)
custom software written in C++/OpenGL, digital video/audio source material
Bill Seaman, Principle Investigator and Artist (concept and initial design), Todd Berreth (programming and additional design).


Back to main navigation